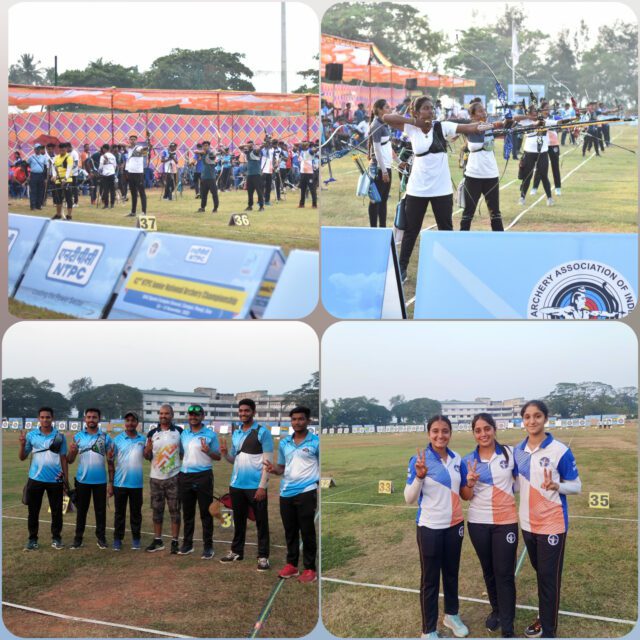 PANAJI: Maharashtra and Haryana bagged the team title in men's and women's recurve round respectively at the 42nd NTPC Junior National Archery Championship 2022 at Sports Authority of Goa ground, Campal here on Friday.
In a nail-biting finish, Maharashtra defeated Haryana 29-28 in the shoot-off after the teams were locked in a set score of 4-4. Parth Salunkhe was at his best for Maharashtra and also leads the individual category with 676 points.
The final in the women's category was a one-sided affair with Haryana scoring an emphatic 6-0 win against Madhya Pradesh. Haryana team comprising World Cup winner Ridhi, Bhajan Kaur and Tisha; struck a good rhythm as they blazed their way to glory.
The bronze medal match in the men's recurve round saw SSCB beat Pondicherry 5-1; while Chandigarh beat Jharkhand 6-2 in the women's category.
Meanwhile in the individual competition, Punjab's Isha is at the top of the table with 623 points against her name, heading into the 1/32 action to be played out on Saturday morning onwards.
Earlier, Chief Minister Dr Pramod Sawant declared the national championship open in the presence of  Archery Association of India secretary-general Pramod Chandurkar, treasurer Rajendra Singh Tomar; Ajay Gaude, Director of Sports & Youth Affairs; Amateur Archery Association Goa president Kiran Kandolkar, working president Dr Neelesh Korde, secretary Chetan Kavlekar and other dignitaries.
Amateur Archery Association Goa is organising the prestigious nine-day national championship in association with Sports Authority of Goa and under the aegis of Archery Association of India.