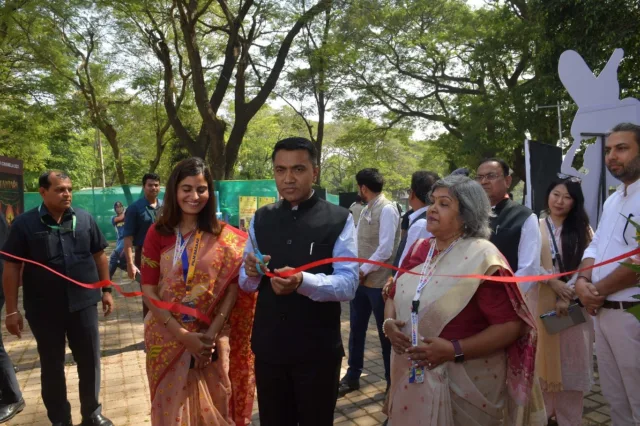 Chief Minister, Dr. Pramod Sawant inaugurated the CBC Exhibition at the 54th IFFI at Kala Academy, Panaji. This year's CBC Exhibition captures the essence of projecting Indian films and their contributions using cutting-edge technology and futuristic trends. The Digital Exhibition has been set up by the Central Bureau of Communication, Ministry Information & Broadcasting (I&B).
The Union Minister of I&B Anurag Singh Thakur visited and appreciated the exhibition. Highlighting the importance of such exhibitions, he said the exhibition allows everyone to see the history, new technology and new interventions such as VFX and use Virtual Reality and provide an immersive experience into the world of cinema.  He further said, "It is the right place to explore, experience and get educated for cinema lovers.
https://x.com/PIB_India/status/1726880528991928594?s=20
The main theme of the exhibition is based on Indian cinema, where various aspects of cinema are depicted, such as cinema based on Women Empowerment, Social Cause & Behaviour Change, Mahatma Gandhi's Ideology, Inspiring Youth, National Security, Science & Technology, National Integration & Communal Harmony, and Regional Languages & Culture among others.
Allowing movie buffs to learn about cinema through interactive displays, the exhibition promises to be both an insightful and engaging experience. Various technologies like Augmented Reality, Virtual Reality, Digital Puzzle, Immersive Room, Digital Flipbook etc. have been used to enhance the experience of the visitors.
A section on Pre-Independence songs based on Patriotic theme are also on display. The songs consists of the following:
1. Watan Se Chala Hai Watan Ka Sipahi_Chand _1944
2. Yai Desh Hamara Pyara_Humjoli 1946
3. Ae Hind Ke Saputo Jago Hua Savera, Movie – Koshish 1943
4. Ghulami 1945_ Ae Watan Mere Watan Tujh Pe Meri Jaan Nisaar
5. Maata Mata Bharat Maata (Hd) – Taqdeer (1943) Song – Nargis – Motilal – Chandra Mohan
6. (1943)_Door Hatho Ae Duniya Walo – Kismet Full Song
7. Chalo Siphi,Kro Safai_Brahmachari_1938
8. 1940_-Chal Chal Re Naujavan_Bandhan
9. Hum Panchhi Hai Azad_Naseeb 1945
10.1937_Dunia Na Mane_–Shanta Apte
11.Bharat Pyara Desh Hamara_Muskarahat_1943
12.Hai Dhanya Tu Bharat Naari_Bharat Ki Beti_1936
An interesting feature one can find inside the exhibition is the immersive experience of the Elphinstone Picture Palace Movie Theatre. It is worth mentioning that the Elphinstone Picture Palace in Kolkata was the 1st (first) Cinema hall of India.
The exhibition has incorporated technology and promises to mesmerise and captivate visitors. There is an AR booth for selfie with the Prime Minister Narendra Modi, a 360 Degree Robotic Arm, a three Side Led Wall among others.
In the evening, two laser shows and a projection mapping show based on the theme of cinema will be organised. Entry to the exhibition is free for all.
Also present at the inauguration were Ankita Mishra, CEO, ESG and Monideepa Mukerjee Director General, PIB, West Zone.