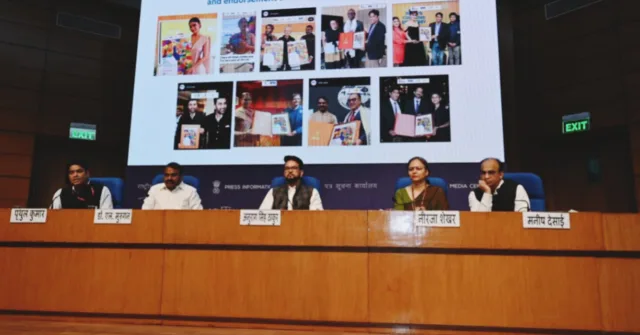 Union Minister for Information and Broadcasting, Anurag Singh Thakur announced that 54th International Film Festival will be held from 20th to 28th November, 2023, in Goa.
Speaking on the occasion, Thakur said that ranked 5th-largest market globally, India's media and entertainment industry is a force to reckon with. He added that this market is growing every year with an average annual growth of 20% in the last three years. The movies made in India have covered every corner of the country and are now reaching the distant corners of the world.
In his statement, the Minister stated that this year Satyajit Ray Lifetime Achievement Award will be conferred on Michael Douglas, a shining star of world cinema and who is known for his immense contribution in the cinematic universe.
Thakur informed that the International Section of IFFI has seen a three times spike in number of films received and this is a display of the fascination of international film industry for IFFI.
Speaking about the newly introduced OTT awards, he said that since COVID19 pandemic OTT industry has seen a boom in India and original content created in India is employing thousands of people. In response to the dynamic landscape of this sector, growth of which stands at 28% annually, the Ministry has introduced this award celebrating the outstanding content creators on OTT platforms. He added that a total of 32 entries across 10 languages from 15 OTT platforms have been received and the winner will be awarded an amount of ten lakh rupees.
Anurag Thakur spoke about the booming startup ecosystem in the country and Government's focus on creating a support system to nurture such entities. He added that to bolster the startup ecosystem in film sector, and to recognise talent from the remotest corners of the country, we had started the Creative Minds of Tomorrow initiative. The Minister informed that there are over 600 entries in this section for this year. This year's selection of 75 winners will take the total of such winners to 225 in 3 years.
The Minster made a special mention that all the venues for this year's IFFI will be inclusive with all facilities and access for specially-abled. Audio description for visually impaired, sign language for hearing impaired, dubbing of content in multiple languages will be symbolic of the mantra of Sabka Sath Sabka Vikas.
The Minister of State, Dr L Murugan in his brief statement said that IFFI is one of the biggest film and cultural extravaganza of the world. He informed the audience that International Jury is being headed by acclaimed filmmaker Shekhar Kapur.
Here is a glimpse of what the 54th edition of International Film Festival of India will feature:
• One of the highlights of IFFI is the Satyajit Ray Lifetime Achievement Award (SRLTA) presented for Excellence in World Cinema. Michael Douglas, a Hollywood Actor & Producer, who is presently one of the greatest international figure in world cinema, will be there in IFFI, to accept this prestigious award, along with his wife & acclaimed actress, Catherine Zeta-Jones.
With over 50 years in the film and television industry, "Michael Douglas", has received 2 Oscars, 5 Golden Globe Awards, a Primetime Emmy Award, and countless other honors. In 2023, he received the Palme d'Or for lifetime achievement at the 76th Festival de Cannes. He is known for his iconic roles, from his Academy Award-winning performance as Gordon Gekko in 'Wall Street' to critically acclaimed films like Fatal Attraction, The American President, Basic Instinct, Traffic, and Romancing the Stone. Douglas is not just an actor but also a prolific producer. His work includes powerful films like One Flew Over the Cuckoo's Nest and The China Syndrome. Douglas has been known for his humanitarian efforts. He is on the board of the Nuclear Threat Initiative organization focused on reducing nuclear and biological threats imperiling humanity. He was also appointed as a United Nations Messenger of Peace in 1998.
• More than 270 films will be showcased during the festival at 4 venues – INOX Panjim (4), Maquinez Palace(1), INOX Porvorim(4), Z Square Samrat Ashok (2).
• 'International section' of the 54th IFFI will have 198 films, even 18 more than the 53rd IFFI. It will have 13 World Premiers, 18 International Premiers, 62 Asia Premiers and 89 India Premiers. This year IFFI received a record number of 2926 entries from 105 countries, which is 3 times more international submissions than last year.
• 'Indian Panorama' section will showcase 25 feature films and 20 non-feature films from India. Opening Film in the feature section is a Malyalam film, Aattam, and in the non-feature section is Andro Dreams from Manipur.
• Best Web Series (OTT) Award: Best Web Series (OTT) Award has been introduced this year. Aimed at acknowledging, encouraging and honouring, the flourishing content and its creators of OTT platforms. 32 entries have received in 10 languages from 15 OTT platforms. Certificates and a cash prize of 10 Lakhs will be given as prize money to the winning series, which will be announced in the closing ceremony.
• International Film Section of this year's IFFI will have 8 curated sections. The highlights of important films are as under –
• OPENING FILM: Catching Dust | Dir: Stuart Gatt | United Kingdom | (International Premiere) – It's a Drama/ Thriller, with cast including eminent international actors, Erin Moriarty, Jai Courtney, Dina Shihabi, Ryan Corr, José Altit, Gary Fannin & Olwen Fouéré. Stuart Gatt is an award-winning British filmmaker of mixed Asian heritage whose stories are often influenced by topical social themes.
• MID-FEST FILM: About Dry Grasses | Dir: Nuri Bilge Ceylan | France | (India Premiere) – It is a Turkish Drama by the acclaimed director who has won several prestigious awards. His film Winter Sleep (2014) won the Palme d'Or at the Cannes Film Festival, while six of his films have been selected as Turkey's submission for the Academy Award for Best International Feature Film, which also includes 'About Dry Grasses'. This film was also in the competition section of the Cannes Film Festival this year. Its acclaimed actress Merve Dizdar, was presented the awards for Best Actress for her performance for this Film.
• CLOSING FILM: The Featherweight | Dir: Robert Kolodny | United States | (Asia Premiere) – It is a 2023 American biographical sports drama film that unravels the mythmaking and the fiction of modern stardom through the biopic of a star athlete, meticulously conceived in the classic "Cinéma verité" (truthful cinema) style. Robert Kolodny is a versatile American Director, Writer and Cinematographer. The film premiered at the 80th Venice International Film Festival in Sep, 2023. Robert served as Director of Photography for many films and has also directed various award-winning films and documentaries.
• INTERNATIONAL COMPETITION SECTION –15 feature films (12 International + 3 Indian) have been shortlisted to compete for the coveted Best Film Award, a Golden Peacock & INR 40 lakhs. Apart from the Best Film the jury will also determine winners in the best director, best actor (male), best actor (female), special jury prize category. The list of Films is given in Annexure and their details are being uploaded on the official website of IFFI.
• BEST FEATURE FILM DEBUT DIRECTOR – 5 International + 2 Indian Films will compete in this section for the coveted Silver Peacock, 10 lakh INR as cash prize and a certificate. The list of Films is given in Annexure and their details are being uploaded on the official website of IFFI.
• International Jury – Shekhar Kapur (Chairperson), acclaimed Indian Filmmaker & Actor, Jose Luis Alcaine, awarded Spanish Cinematographer, Jerome Paillard, distinguished ex-head of Marche du Cannes, Catharine Dussart, prolific Film Producer from France; Helen Leake, renowned Film Producer from Australia.
• FESTIVAL KALEIDOSCOPE – Best of award-winning films of the prestigious international film festivals this year, have been assorted in the IFFI Kaleidoscope. 19 films are from festivals such as Cannes, Venice, Sao Paulo, Rotterdam, Santa Barbara, Stockholm, etc.
• CINEMA OF THE WORLD Section comprises 103 films through entries, a significant leap from previous years (77) to explore the staggering diversity of aesthetics and narratives from cinemas around the globe.
• Introduced a DOCU-MONTAGE SECTION featuring a mosaic of compelling documentaries from around the world.
• ANIMATION SECTION of the festival has been expanded to curate International and Indian animation films, comprises an extensive line up of aesthetically ingenious and narratively subversive animated films including Poland's official Ocsar entry – The Peasants (Dir: Dk Welchman, Hugh Welchman), also including Indian animation films.
• IntroducedRESTORED CLASSICS SECTION featuring 7 world premieres of the world class restorations done by NFDC-NFAI under the National Film Heritage Mission (NFHM) from the damaged celluloid reels of the Indian Classics –
• Vidyapati (1937) Bengali Director: Debaki Bose
• Shyamchi Aai (1953), Marathi, Director: P.K. Atre
• Patala Bhairavi (1951), Telugu, Director: K.V. Reddy
• Guide (1965), Hindi, Director: Vijay Anand
• Haqeeqat (1964), Hindi, Director: Chetan Anand
• Chorus (1974) Bengali, Director: Mrinal Sen
• Bees Saal Baad (1962), Hindi, Director: Biren Nag
• Further, there will be 3 international restored films also showcased in this section including The Exorcist Extended Director's cut from Venice and Sergei Parajanov's Shadows of Forgotten Ancestors.
• UNESCO FILMS – Films that reflect the ideals of UNESCO: 7 International + 3 Indian films.
• ACCESSIBLE FILMS – In the 54th IFFI there will be facilities to ensure that specially-abled festival delegates can access all the screening and other venues. Making festival an inclusive and accessible avenue for everyone is a step taken towards inclusivity.
• Specially-abled delegates
• For Visually impaired: Films withEmbedded Audio Descriptions – Sirf Ek Bandaa Kaafi Hai & Shershaah
• For Hearing Impaired: Films withEmbedded Sign Language – 83 & Bhaag Milkha Bhaag
• Multiple language dubbing – Many Indian Panorama Films to be available to be watched along with dubbing in the preferred language, using their "Smartphone and Earphones'. IFFI has partnered with 'cinedubs' App for this, to be made available for free. Several dubs will be available through the App, of other than the language in which the movie is being played in the theatre.
• Feature Films of more than 40 women filmmakers across international programme of IFFI.
• Master classes and In-conversation Sessions – With over 20 'Masterclasses' and 'In Conversation' sessions with eminent filmmakers, cinematographers, and actors, it promises to be an exciting week. Will be at renovated & refurbished Kala Academy at Festival Mile, Panjim, Goa. Michael Douglas, Brendan Galvin, Brillante Mendoza, Sunny Deol, Rani Mukerjee, Vidya Balan, John Goldwater, Vijay Sethupathi, Sara Ali Khan, Pankaj Tripathi, Nawazuddin Siddhiqui, Kaykay Menon, Karan Johar, Madhur Bhandarkar, Manoj Bajpayee, Kartiki Gonsalves, Boney Kapoor, Allu Aravind, Theodore Gluck, Gulshan Grover and the list goes on to include several national & international stars.
• Gala Premiers – Started last year, the Gala Premiers is being expanded. These film premiers at IFFI would have their actors and talent walk the red carpet of IFFI to promote their films.
• Virtual IFFI – Masterclasses, In Conversation sessions, panel discussions and the opening /closing ceremony of the 54th edition of IFFI will be accessible Online through Book My Show App. Registration will be kept nominal.
• Film Bazaar: IFFI in essence is the "Celebration of World Cinema". Along with it, a Film Bazaar is organized by NFDC for the "Business of Cinema". The Film Bazar of IFFI has evolved into one of the largest global film market in South Asia. It acts as a perfect ecosystem for international filmmakers, producers, sales agents aur festival programmers to meet for potential creative and financial collaborations. This "17th Edition of the NFDC Film Bazaar" will have expanded scope of its verticals –
• Pavilions & Stalls in Films Bazar –
• VFX & Tech Pavilion – A newly curated "VFX & Tech Pavilion" has been integrated into Film Bazaar, which will be put along the promenade facing the sea. It will make the film makers aware of the latest innovations, to explore the possibilities of storytelling by not just the traditional way of "Taking The Shot", but also "Creating The Shot" with infinite possibilities.
• Several Stalls of International Film Commissions & Indian States will be there to promoting their locations and incentives schemes.
• Several Stalls of Film related productions houses, institutions, associations, etc.
• Introduction of Documentary & Non-Feature Projects/Films
• "Knowledge Series" curated to include pitching sessions from selected filmmakers, countries & states, along with important aspects of film production and distribution.
• Started last year, 'Book to Box Office' section has partnered with 'The Story Ink' to enhance the main objective is to provide creative authors a platform to submit their work and introduce these stories to the producers and heads of platform.
• All in all, there will be more than 300 international film projects curated and showcased this year in the 17thedition of the Film Bazaar for production, distribution or sales.
• 75 Creative Minds of Tomorrow (CMOT): A brainchild of Shri. Anurag Singh Thakur, Hon'ble Minister of Information and Broadcasting, the initiative aims to identify, encourage and nurture young creative talents from various trades of filmmaking. Shorts TV is the conceptual Programming Partner, which is the world's largest catalogue of high-quality short movies and series available on TV, on mobile, online, and in theaters. These selected 'creative minds' are divided into 5 teams for the 'Film Challenge', to make a short film each, all in 48 hours. This year the candidates will also have professional classes especially curated by the masters of cinema and a "Talent Camp" for recruitment will be organised with more than 20 leading companies.
• IFFI Cine-Mela: IFFI is not just a showcase of cinematic excellence but also a celebration of cultural diversity. This year, IFFI Cine-mela will be a spectacular addition to the cinematic festivities, where IFFI attendees & even others such as locals & tourists not registered for IFFI, can also enjoy exciting activities while celebrating the magic of cinema, arts, culture, crafts, food, etc.
• Other Attractions: Open Air Screenings, Caravans, Shigmotsav, Goa Carnival, Selfie points, IFFI Merchandise, etc. to enhance the IFFI as one of the biggest cultural extravaganza of India for the world.
• Branding & Décor of Festival Venues – NFDC & ESG have partnered with NID, Ahmedabad for the entire décor and branding of the Festival Venues.
• Celebrating Cultures of India (5 days) – Aligning the film screening, Gala Premiers and visiting film talent to showcase their regions.
• 22nd: East: Bengali, Oriya, Assamese, Manipuri & north eastern dialects
• 23rd: South 1: Tamil & Malayalam
• 24th: North: Punjabi, Dogri, Bhojpuri , Rajasthani, Urdu , Chattisgarhi
• 25th: West: Konkani, Marathi, Gujarati
• 26th: South 2: Kannada & Telugu
• Daily announcements and updates may be seen at the official website of IFFI https://iffigoa.org/.
54TH IFFI 2023
FILM LIST – COMPETITIONS
INTERNATIONAL COMPETITION (IC) – 15 Films
Andragogy | Dir: Wregas Bhanuteja | Indonesia | 2023 | Indonesian | 110′ | IC
Blaga's Lessons | Dir: Stephan Komandarev | Bulgaria, Germany | 2023 | Bulgarian | 114′ | IC
Bosnian Pot | Dir: Pavo Marinković | Croatia | 2023 | Croatian, German | 103′ | IC
Endless Borders | Dir: Abbas Amini | Iran, Islamic Republic Of | 2023 | Persian | 111′ | IC
Hoffman's Fairy Tales | Dir: Tina Barkalaya | Russian Federation | 2023 | Russian | 88′ | IC
Lubo | Dir: Giorgio Diritti | Italy, Switzerland | 2023 | Italian, Swiss German, Jenisch | 181′ | IC
Measures Of Men | Dir: Lars Kraume | Germany | 2023 | German | 116′ | IC
Party Of Fools | Dir: Arnaud Des Pallières | France | 2023 | French | 122′ | IC
The Other Widow | Dir: Ma'Ayan Rypp | Israel | 2022 | Hebrew | 83′ | IC
Woman Of | Dir: Małgorzata Szumowska, Michał Englert | Poland | 2023 | Polish | 132′ | IC
Asog | Dir: Seán‌ ‌Devlin | Canada | 2023 | Other, Tagalog | 99′ | IC
Die Before Death | Dir: Ahmed Imamovic | Bosnia And Herzegovina | 2023 | Bosnian | 94′ | IC
Kantara | Dir: Rishab Shetty | India | 2022 | Kannada | 150' | IC
Sanaa | Dir: Sudhanshu Saria | India | 2023 | Hindi | 119' | IC
Mirbeen | Dir: Mridul Gupta | India | 2022 | Karbi | 89' | IC
BEST DEBUT FEATURE FILM OF A DIRECTOR AWARD (BD) – 7 Films
Almost Entirely A Slight Disaster | Dir: Umut Subaşı | Turkey | 2023 | English, Turkish | 88′ | BD
Let Me Go | Dir: Maxime Rappaz | Switzerland | 2023 | French | 92′ | BD
Ocarina | Dir: Alban Zogjani | Albania | 2023 | Albanian, English | 92′ | BD
Sleep | Dir: Jason Yu | South Korea | 2023 | Korean | 95′ | BD
When The Seedlings Grow | Dir: Rêger Azad Kaya | Syrian Arab Republic | 2022 | Arabic, Kurdish | 83′ | BD
Dhai Aakhar | Dir: Parveen Arora | India | 2023 | Hindi | 98 ' | BD
Iratta | Dir: Rohit M.G. Krishnan | India | 2023 | Malayalam | 112 ' | BD
ICFT UNESCO GANDHI MEDAL AWARD – 10 Films
A House In Jerusalem | Dir: Muayad Alayan | Palestine, UK, Germany, Netherlands, Qatar | 2022 | English, Arabic, Hebrew | 103′ | ICFT UNESCO
Citizen Saint Dir: Tinatin Kajrishvili | Georgia | 2023 | Georgian | 100′ | ICFT UNESCO
Drift | Dir: Anthony Chen | UK, France, Greece | 2023 | English, Greek | 93′ | ICFT UNESCO
It's Sira | Dir: Apolline Traoré | Burkina Faso, France, Germany, Senegal | 2023 | French, Fula | 122′ | ICFT UNESCO
Kalev | Dir: Ove Musting | Estonia | 2022 | Estonian, Russian | 94′ | ICFT UNESCO
The Prize! | Dir: Paul Fauzan Agusta | Indonesia | 2022 | Indonesian | 96′ | ICFT UNESCO
The Sugar Experiment | Dir: John Tornblad | Sweden | 2022 | Swedish | 91′ | ICFT UNESCO
Mandali | Dir: Rakesh Chaturvadi Om | India | 2023 | Hindi | 118′ | ICFT UNESCO
Malikapuram | Dir: Vishnu Sasi Shankar | India | 2022 | Malayalam | 121′ | ICFT UNESCO
Rabindra Kabya Rahasya | Dir: Sayantan Ghosan | India | 2023 | Bengali | 115′ | ICFT UNESCO