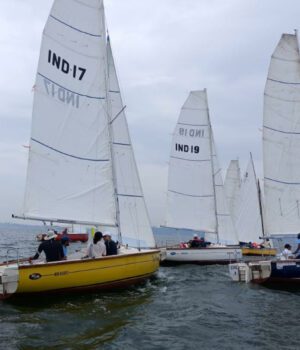 PANAJI: The fourth edition of the 75 Knots National Masters Sailing Regatta, will be flagged off on Monday morning at 11 a.m. at Dona Paula, with a record number of 22 teams in the Seabird Class and 6 in the windsurfing class in action.
Many National and World Champions like Homi Motiwala, winner of the Arjuna and Khel Ratna awards; Surinder Mongia, Manish Kapileshwar, Vikas Kapila, Abhimanyu Patankar and others will compete in the Seabird class. Our own Goan sailor and 10-time National Champion Derrick Menezes, Zamir Mirza, Philip Dartnell and others will vie for the honours in the windsurfing class, states a press release.
The sailing event is for participants of over 45 years of age and will be held in the Master (45 to 60 years) and Grandmaster ( over-60 years) race categories, over a total of 9 races in a period of 3 days.

The 75 Knots Regatta – a brainchild of Cesar and Mimi Menezes, to bring all the sailing/yachting stalwarts and champions of yesteryears together to race again and relive their glory; started in 2018.

The event has gained tremendous popularity amongst sailors from all over India. This year will see participants from Chennai, Mumbai, Delhi, Pune, Lucknow, and several other parts of the country, besides Goa.

The event will be flagged off at 11 a.m. tomorrow with a maximum of 3 races being sailed in the morning session, and 3 in the afternoon session.