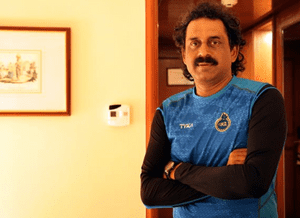 PANAJI: It seems Goa Ranji Trophy cricket team is now set for a long-term development plan under newly-appointed coach KP Bhaskar. In the past, the Goa Cricket Association (GCA) has changed coaches too quickly with short-term arrangements also being implemented.
Raghuram Bhat, Rajesh Kamath, Nuwan Zoysa, Dodda Ganesh, current director of coaching and cricket operations Prakash Mayenkar have all been in charge of Goa over the last ten years. Now though, the GCA has indicated that the target is to gain promotion to a stronger group in Ranji Trophy, in a focussed approach.
Moreover, Suyash Prabhudessai's selection by IPL outfit Royal Challengers Bangalore, is also a great sign that Goan cricket has the potential to be nurtured by an expert eye.
GCA president Suraj Lotlikar revealed the vision, saying: "We should have such a coach for a long term to get necessary benefits for the team and not think about a short-term plan. Our goal should be to qualify and reach the Elite Group B in the coming years."
KP Bhaskar has 15 years of coaching experience and the former prolific First-Class batsman is known for his technical expertise, inter-personal skills and emotional intelligence of working with professional cricketers and young athletes. His ability to read the game and adapt to changing situations, is one of his key strengths, according to a GCA press release.
GCA secretary Vipul Phadke highlighted that KP Bhaskar's experience is an 'asset for the Goan Ranji team.'
Goan physiotherapist Danny Pereira, who has formerly worked with the State Ranji Trophy team, also has experience having worked in KP Bhaskar's support staff at Uttarakhand. The Pilar-based freelance physio hailed GCA's choice. "He is a gentle, disciplined and focussed coach, who will be able to guide our Goan boys," said the Ortho and Sports Physiotherapist.