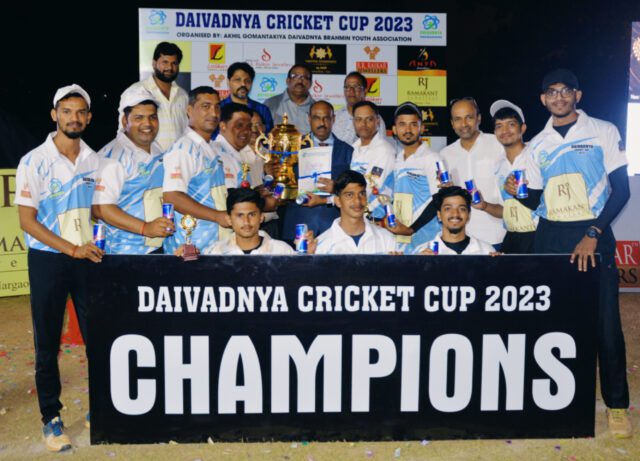 The 5th edition of Akhil Gomantakiya Daivadnya Brahmin Youth Association's (AGDBYA's) Daivadnya Cricket Cup 2023 was held on 14th & 15th January 2023 at S.A.G ground, Fatorda.
Shri Bodgeshwar team emerged the winners while Vernekar Warriors were the runners-up. A total of 17 teams from all over Goa, took part in this tournament including 2 women's teams. This was the 5th edition, but the event was held after a gap of 2 years because of Covid-19 Pandemic.
The concluding ceremony of the 2-day cricket event was attended by Nitin Raikar, Director, Directorate of Fire & Emergency Services, Goa, as the Chief Guest and Pandharinath alias Sandip Shamba Anvekar , President – Shri Kalika Temple, Kasarpal, Goa, as the Guest of Honour. On the occasion, 9-year-old Vidhi Verlekar, a student of Trinity Primary School-Curtorim, was felicitated for her outstanding performance in Martial Arts.
Prashil Salkar, President-AGDBYA, welcomed the guests and other dignitaries and briefed about all the events, activities and other social service carried out by the association throughout the year.
Nitin Raikar appreciated the efforts of AGDBYA for conducting such types of event and thanked the association for inviting him for such function.
The winning team with the runner-up team and other individuals received trophies from the guests in a grand function that was attended by more than 300 people.
Dipti Nagvekar and Vrundawan Raikar compered the function. Rohit Vernekar, Secretary-AGDBYA proposed the vote of thanks.
Following individual prizes were awarded:
Man of the Series – Manoj Haldankar, Best Batsman – Siddesh Verlekar, Best Bowler – Vivek Verlekar, Man of the match for final – Amrut Verlekar, Best catch – Prajay Haldankar, Maximum sixes – Amrut Verlekar, Best upcoming player – Atharv Verlekar, Women's Winning team – Royal Strikers, Women's Runner's up – Southern Spartans, Man of the match (Women's) – Puja Usapkar, Best Bowler (Women's) – Lisha Lotlikar.