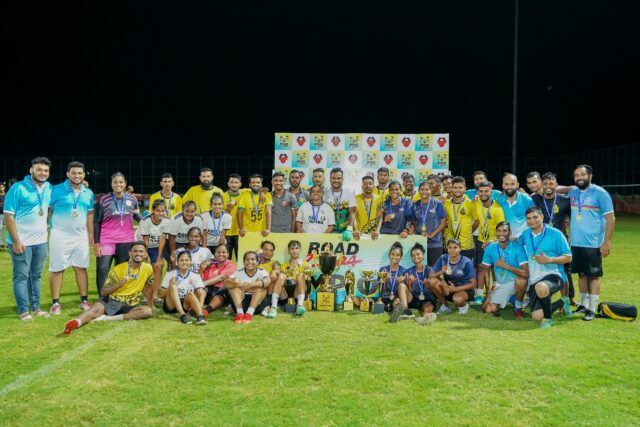 PANAJI: An action-packed inaugural edition of Road2Goa came to a conclusion this weekend with Aquila FC and Blink FC being crowned champions of Road2Goa in the men's and women's editions respectively at the Salvador do Mundo Panchayat Ground.
In addition to the coveted trophy, Aquila FC bagged INR 2 lakhs in the form of prize money. They defeated KFC (winners of the South Goa leg, who themselves received INR 1.5 lakhs for being the runners-up) in sudden death after normal time and the ensuing penalties were not enough to separate the two sides in the final.
In the women's category, winners Blink FC walked home with the winner's cheque after overcoming the challenge from ABC 13 Maina. Blink FC's Stessi Cardozo, meanwhile bagged the Best Player award in the women's tournament, her 6 goals helping Blink to the title.
Speaking on the tournament, FC Goa President, Akshay Tandon said, "I am absolutely thrilled to see the level of participation. The aim of the tournament was to create a meeting place for all football fans – starting with Goa. A place where you can experience your passion for football, in a safe and secure environment.
"Road2Goa is all about connecting communities and providing all a good experience. Making new friends and socialising with football at the heart of it all. The opportunity to play teams from other parts of the state and hopefully others states of India in the future. Winning or losing games together with your team mates."
Aquila FC's goalkeeper Augustine D'Mello was adjudged the best player of the men's tournament thanks to his brilliance between the sticks for the eventual champions.
Sanroy D'Sousa, owner of Aquilla FC weighed in with his experience of the tournament. He said, "It's heartening to see tournaments like Road2Goa being organised. It was a brilliant experience for us to play in the tournament and I hope this becomes bigger in the days to come.
"Winning the tournament is, of course a great source of happiness for me and the players, but more importantly it was an event where the game of football won. It sets a great example for clubs around India on how to build a close-knit football community around the game that motivates the players and potential fans to be involved with a club like FC Goa."
Earlier in the day KFC overcame the challenge of La Masia FC to win the South Goa leg whilst Aquilla FC got one over Saligao Mae De Seus in the North Goa final.