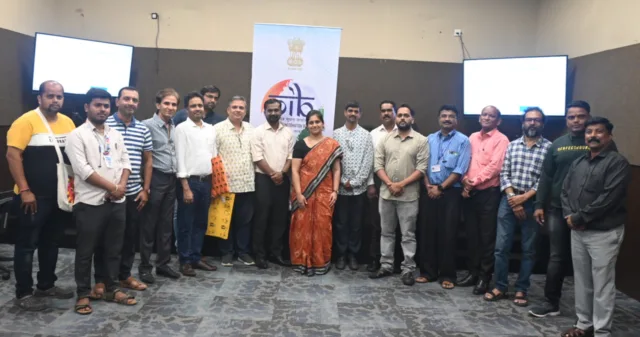 As a prelude to the 54th International Film Festival of India which is all set to begin in Goa on Monday, Press Information Bureau, Goa in association with Film and Television Institute of India (FTII), Pune and National Film Development Corporation (NFDC) organised a Film Appreciation workshop for journalists in Goa. This workshop was a novel initiative of PIB and NFDC to ensure a more enriched and meaningful cinematic experience for the media professionals.
Distinguished luminaries graced the event as resource persons, infusing the workshop with their profound expertise and passion for the world of cinema. The esteemed panel comprised of Dr Milind Damle, Executive Head of the Centre for Open Learning (CFOL) and Head of the Department of TV Direction at FTII, Pune; Prof. Pankaj Saxena, Art Director of IFFI 2023 and Dr Biswa Behura, an experienced Cameraperson and faculty member at FTII.
Dr Milind Damle, a luminary in the cinematic realm kick started the workshop with a session on 'What is Film Appreciation and Why?'. Inculcating interest and passion for films in the participants, Dr Damle delved into the essence of film appreciation, unraveling the mysteries that make this art form a profound and indispensable aspect of our cultural fabric.
Prof. Pankaj Saxena explored the intricate layers of film analysis and provided participants with a deeper understanding of the craft that goes into creating cinematic masterpieces. He said that both media and film-makers have the power to make a difference in society and people's lives.
Illuminating the power of images in storytelling, Dr. Bishwa Behura emphasised that content and visuals are inseparable in films and it is visuals that allow content to rise in a movie.
Later in the day Dr. Damle continued with his session unraveling the auditory and editorial realms of cinema, exploring how sound and editing contribute to the immersive and transformative nature of the cinematic experience. Concluding the workshop, Dr. Damle expressed hope that the workshop will help journalists to write about films and cover the film festival with greater nuance. He also exuded confidence that the film appreciation workshop becomes an annual affair before every IFFI and that it will be bigger and better next year. Selected short films were also screened in connection with the workshop.
The media persons who were part of the workshop participated in enthusiastic interactions with the experts and expressed their gratitude for being made a part of this novel initiative.