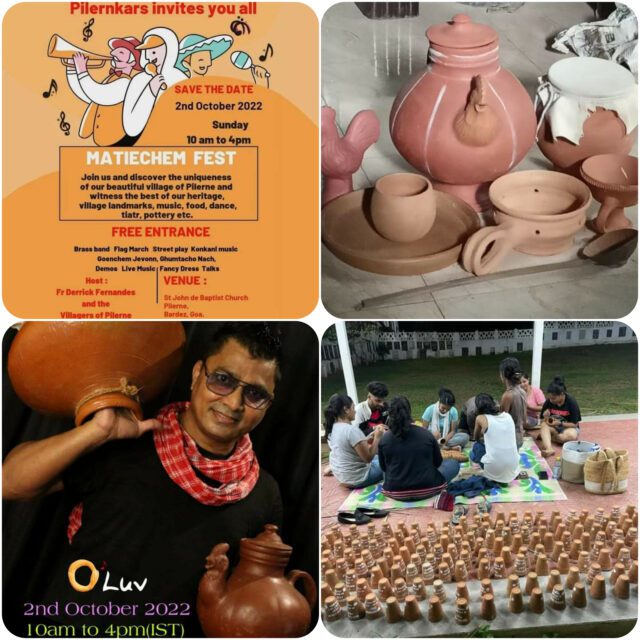 PANAJI: Pilerne is hosting the first-ever 'Matiechem Fest' (Festival of the Soil), on Sunday, October 2, from 10am to 4pm, at St John the Baptist Church premises. A host of programmes and activities have been lined up throughout the day.
The event will begin at 10am with a heritage walk near the Pilerne Panchayat accompanied by the Brass band and Flag March. This will be followed by a performance by a school, and later with a skit by the Pilerne Theatre Group at the culvert.
The March will then proceed to the main venue at the church ground. Thereafter, the Pilerne Art and Socio-Cultural Association and Global Goa Girl's Ghumot Group will be launched.
There will be a celebration of the 3rd birthday of the Ghumot, after which adjudicators will announce the World Record for the Most Percussion Instruments Played – The Pinnacle World Record Goa.
At 11:30am, 5 dance performances will be presented by various vaddos of Pilerne depicting Goenkarponn. Post lunch at 1pm, there will be a performance by the Pilerne Sunshine Band.
This is followed by a couple of Interviews, Skit, Mando and Fugddi performance, Ghumtacho Nach with O'luv, Kotti Zumba with Zeeba, with the Fest culminating with a performance by the Pilerne Sunshine Band.
Marius Fernandes, Curator, and Fr Derek Fernandes, Parish Priest, via the press release requests people to join in this unique celebration.