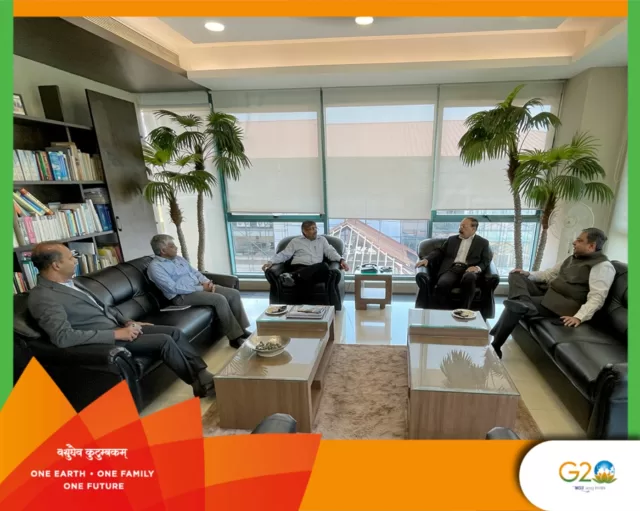 Following the meetings with the Chief Minister, Dr. Pramod Sawant and the Governor of Goa, P.S. Sreedharan Pillai in view of the eight G20 meetings scheduled to be held in Goa, Harsh Vardhan Shringla,G20 Chief Coordinator, Arvind Singh, Secretary to Government of India, Ministry of Tourism, along with Dr V Candavelou, Principal Secretary Finance, and Sanjit Rodrigues, Nodal Officer- G20, Government of Goa met with the Chief Secretary of Goa, Puneet Kumar Goel, (IAS) to discuss matters related to G20 summit in Goa on March 21.
During the meeting, the officials discussed the operational and logistical challenges that need to be addressed as well as the preparedness of the G20 summit keeping in mind the monsoon season in Goa.
The meeting was followed by a detailed discussion regarding the G20 meetings with State government officials from various concerned departments to ensure the smooth flow of the event. Secretary of Protocol, Government of Goa and Nodal Officer – G20, Sanjit Rodrigues explained to the officials the ongoing preparation in view of the summit.
The Secretary of Protocol highlighted that around 100 liaison officers are being provided with the necessary training in line with the requirements of the summit. A special team has been put in place to ensure that the delegates' experience upon landing is hassle-free. In preparation for the summit, the city spaces are undergoing a transformation in terms of development and repair works.
The organisers are in the process of procuring electric buses and vehicles available in the state for the summit. Additionally, the government has made arrangements to cater to the medical needs of the delegates at different venues. Ambulances and medical staff will be made available to all the delegates throughout their visit in the state.
Secretary of Protocol, Government of Goa and Nodal Officer – G20, Sanjit Rodrigues suggested ideas that could be incorporated to enhance the overall experience of the delegates visiting Goa. Suggestions include infusing Goan elements of cultural and historical significance at different venues. These locally procured and upcycled items will be installed at common spaces used by the delegates. Along the lines of zero plastic and sustainability, the delegates will also receive souvenirs that represent Goa and that emanate a message to protect and preserve the environment. Various gifts and other items that are connected to Goa were shown to the Coordinator, Secretary of Tourism and the delegation to provide a better understanding of what could be presented to the visiting delegates.
Several other creative art installations will be set up at the venues for the meetings to allow the delegates to explore Goa's rich culture and heritage. The concerned departments have been asked to look into issues that could hinder the flow of the summit. The delegation from New Delhi was on a two-day visit to Goa to check progress of the preparations, stated a press release.