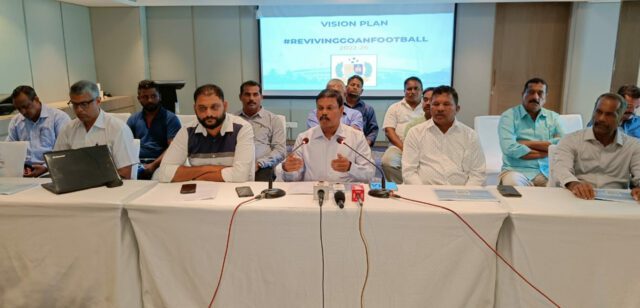 PANAJI: Goa Football Association presidential candidate Caitano Jose Fernandes unveiled his four-year vision plan for the GFA, at a press conference in a city hotel on Thursday. The businessman also made a clarion call to all clubs to back him and other like-minded individuals at the elections to the GFA Executive Committee on 30th October 2022, states a press release.
The 'Vision Plan' includes five major areas where he proposes to ring in a slew of changes and reforms in his four year tenure, if elected. A major area of his focus will be on infrastructure development at the Duler Stadium, where he proposes to relay the artificial turf at an estimated cost of Rs. 1.8 crore. The turf was installed by FIFA back in 2012 under the tenure of the then GFA President Shrinivas Dempo. Caitano has also assured that he will build a roof over the North stand and pursue with the government to develop land of approximately 5500 sq.m at the south side.
"The life of the Duler turf has long passed it's validity date. I will make sure that I re-install the turf by July 2023. The next season 2023-24 will be played on a new artificial turf. I also have plans to build a roof over the north stand as well as approach the government to fund a state of the art revenue generating project on the south side. The project has already been planned and designed, we will revisit these plans and try and get the government to sanction us a budget. If this project gets completed, half of our annual budget will be taken care of from the revenue earned from this project," said Caitano.
Another area of his focus will be on restructuring the leagues including revision of the GFA Competition Rules. The GFA currently organises four senior leagues and four age group leagues. In addition, it organises the Vedanta Women's League. While the 2019-20 Leagues could not be completed due to Covid, the last two seasons have seen only the Women's League, the Professional League and the U-20 Taca Goa being organised due to the Covid pandemic and lack of finances. " The Goa Professional League needs to be made a better quality product with proper sponsorship, broadcast and it has to be organised at multiple venues so that the game spreads all over Goa. This will help our players get scouted by I-League and ISL teams. The First, Second and Third Division Leagues also need to be organised in a more professional way and on better grounds. A calendar needs to be followed which is in sync with the transfer windows so that players are able to play in multiple divisions over the season and get more game time" he added. In terms of youth and grassroots development, Caitano has proposed longer youth Leagues and more grassroots Leagues in partnership with Goa Football Development Council (GFDC).
A major highlight was his plan to transform Women's football. "Women's football has tremendous potential. So many of our Indian players are now playing in foreign leagues. With the help of Vedanta, I will ensure that the league is revamped and we will introduce two age group leagues for girls in my tenure, if I get elected".
Caitano has also promised decentralisation of player registrations so that clubs can register players at zonal offices at Duler, Vasco, Margao and Panaji rather than travelling all the way to Panaji to make player licence cards. He also assured of digitising player records and interlinking of zonal offices digitally.
Referees and coaches have long been neglected and Caitano promised that all coaches and team officials registered with clubs in various leagues and referees registered with the GFA, shall be covered under an insurance policy.
In a another major announcement, Fernandes announced that former international player and retired Assistant Commissioner of Customs, Lector Mascarenhas will be appointed as the General Secretary if he comes to power. "I have decided that former players need to be actively involved in administration of the GFA. If I am elected as President, Lector Mascarenhas, a former player with Dempo and Salgaocar and a retired Assistant Commissioner of Customs will be in charge of implementing my vision for Goan football. I am sure his knowledge and experience as a reputed player and administrator in the government will bring much needed efficiency and transparency in the functioning of the Goa Football Association" he stated.
Caitano also handpicked like-minded individuals amongst the candidates whom he wishes to work with in the future and exhorted the clubs to vote for them en masse and ensure a thumping majority. They are as follows:
Vice-President (North): Jonathan De Sousa (FC Goa), Vice-President (South): Anthonio Pango (Snows football Academy).
Executive Committee Members – (Bardez)
Omkar Vaigankar (Goan Warriors)
Laxman Hadfadkar (Sinquerim Sports Club)
Praveen Dhabolhar (Chapora Yuvak Sangh)
Uday Lingudkar (Sai Avtar Sports Club)
Jonathan De Sousa (FC Goa)
Executive Committee Members – (Ilhas Zone) Agee Almeida (Dempo SC Juniors)
Sanjiv Nagvekar (Aivao Youth Club)
Mauricio Almeida (Clube Sao Miguel de Taleigao)
Executive Committee Members – (Mormugao Zone) Adlear D'Cruz (Salgaocar FC) Francisco Jose Nunes (Benfica Youth Club)
Executive Committee Members – (Salcete Zone) Anthony Leo Fernandes (St. Anthony's Club Colva) Patwin Fizardo (Guirdolim Club) Custodio Fernandes (St. Anthony's Sports Club,Assolda) Ravindra Cabral (Pax of Nagoa Sports Club) Constancio Paulo Rodrigues (Navelim Sporting Club) Cosme Oliveira (Raia Sporting Club) Schubert Furtado (Enfermos Sports Club).