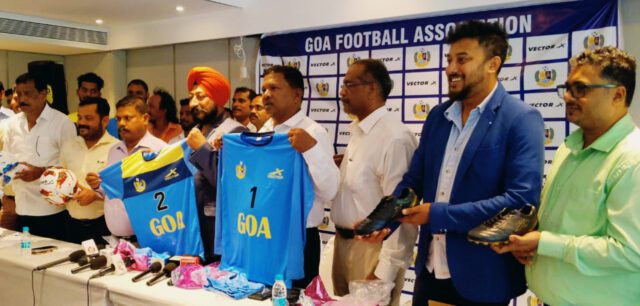 PANAJI: With the impetus on boosting the grassroots football while entering it's 64th year of existence, Goa Football Association entered one of its most valuable sponsorship deal, here on Thursday.
"As we commemorate our 63rd anniversary, it's a wonderful day for the Goa Football Association, and I want to thank everyone for being a part of this wonderful journey. Now that we have an agreement with Vector-X, it's even more unique. We are thrilled to have Vector-X on board with our footballing endeavours as they are one of the biggest names in Indian sports. This is only the beginning of our efforts to grow the sport in the state; a lot of other intiatives are in the pipeline. I wish our state team good luck in their campaign," said GFA President, Dr. Caitano Fernandes.
Vector-X Brand Marketing Head, Baljinder Singh said: "Being a part of Goan football is a huge honour. Given that Goa is a special state where football is celebrated, we at Vector-X are thrilled about this new partnership. We are aware of the state's football activities, and it would be an honour for us to add to Goa's success tales."
While Goan football has suffered on and off the field going by the poor results as well as the allegations of match-fixing and financial crisis, Baljinder Singh brushed off the situation saying that Goa has been traditionally known for its football, and other issues did not get in the way of the deal. He sounded optimistic that the partnership will help the sports goods manufacturers with constant feedback from all quarters including the grassroots level as the company aims to provide top-end products to GFA.
The deal ensures football kits for all the state teams (including the juniors and women), footballs for all GFA competitions, and for the first time referees, will also get the kits; revealed GFA Vice-President (North) Jonathan De Souza.
Meanwhile, Goa team jerseys for Santosh Trophy National Football Championship, were unveiled on the occasion.