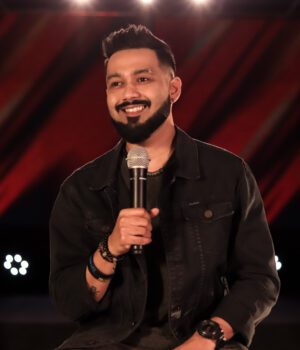 PANAJI: Great clothing at an affordable price and that too, with a promise of sustainability! Goa Clothing Company founder Gavin Martin is determined to deliver the goods via his futuristic 'conscious clothing' startup.
LiveNewsGoa.Com caught up with the 39-years-old Gavin Martin, who is a Motivational Speaker and Personal Development Coach based in Panaji. Here are the excerpts from the interview.
LNG. What is missing in the garment industry that your brand will cater to?
GM: The garment industry is dominated by fast fashion, which are the affordable and trendy fashion brands you see everyday on your favourite shopping app. Unfortunately fast fashion is one of the biggest contributors to wastage which adversely affects the environment. India alone throws away more than 1 million tonnes of textile every year. But textile wastage doesn't only come from households, it also comes from textile manufacturers. To make the clothes you're wearing right now, the textile manufacturer had to throw away almost the same amount of material as extra cut wastage.
Goa Clothing Company uses fabrics which is made from textile wastage, which is broken down into fibers and knitted into cloth material. So when you buy garments from our brand you actually become part of the textile waste solution. One shirt from Goa Clothing is one less shirt thrown away – simple math!
LNG. How was the journey of understanding the sustainability aspect of garment manufacturing?
GM: I never started out with the intention of saving the planet; I started out with the intention that most of us start out with – to make money. I still have that intention but what I've learned is, in whatever we do there's always an opportunity to do something good for the world around us. So I can still make great clothing, offer it at an affordable price, and still help the environment. The key is to put in the effort and find solutions. India has a great ecosystem for sustainability and there are organisations working towards sustainability in various fields, including garments. Yes they don't get the exposure they deserve, and they are hard to find, but they are out there.
I had to travel quite a bit, do a few trials, take a few risks, make a few mistakes, but it was fun, and I'm sure it'll bear fruit. The world of sustainable and conscious fashion has a long way to go but it's the future. And I'm glad we are part of the future and not of the same old.
LNG. What made you move to Goa from Dubai and how easy or tough was the decision?
GM: There were 2 reasons – people and place. I am in the people's business as well. Apart from Goa Clothing, I am involved in the personal growth space. I am very passionate about motivating people and helping them realise their potential – which is way more than just working abroad. So people was one reason. And Goa was another. I am extremely passionate about Goa. I always knew I would move back to Goa, but I didn't want to do that after retirement, when I cannot do much at an old age. I am 39 years old now and I want to invest the peak of my life and my energy here in this land. The decision to move back was easy and tough. Easy because of my passion and love for the land. Tough because of my lifestyle. I knew I wouldn't have the same lifestyle I had in Dubai and I am missing it terribly. I like the fast-paced city life and Goa is the susegad life, which is one of the few things I don't like about Goa. But now that I am here, I am only looking forward to the best that is yet to come.
LNG. What are the obstacles or hurdles that you encountered in terms of Ease of Doing Business aspect of setting up the business in Goa?
GM: All my professional life, I lived and did business in a tax-free country. We didn't even have VAT in the UAE until very recently. So taxation is something I was completely unaware of. I found that part a little hard and confusing. Apart from that, setting up business has become very easy in India today. We are still a start-up so I won't know about the challenges of running a business yet but so far so good. The biggest challenge I have faced so far is with marketing. There's a difference between doing business and building a brand. Brand building requires educating the consumer and especially when its something like conscious clothing, its hard because this idea is still fairly new and not yet popularly accepted in Goa. At first glance, people think we are a T-shirt printing business, and all of my effort is saying – no, we are a conscious clothing business. Educating the consumer involves a lot of costs in marketing expenses and that's challenging for a start-up.
LNG. What can we expect from the company in the time to come?
GM: What you can expect from Goa Clothing Company is creativity and quality. Our best efforts in these two areas will never stop. What we are hoping to do, and that will depend on support from media outlets like yours, is to build a fashion brand representing Goa within the space of conscious clothing. We have already launched our line of T-shirts and Oversized Collection, but we're busy developing new products like sweatshirts and hoodies for our winter collection, which is going to be suited specifically for Goan winters, in fact you could wear them all year round. Our material composition is very unique – it is thick and yet breathable which won't make you sweat a lot. Apart from this, we're also in the process of developing jeans and shoes to add to our label.