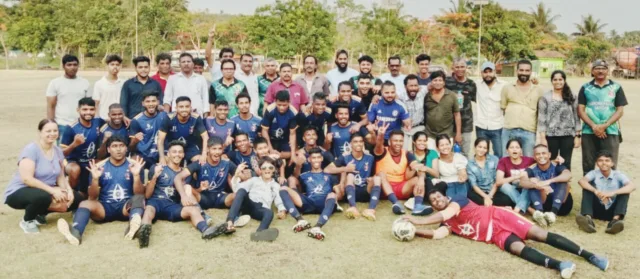 Chapora Yuvak Sangh secured their passage to the GFA First Division with a resounding 4-0 victory over United Boys of Ambaulim in the GFA Second Division League at Nagoa ground.
It was Sachitanant Satekar who seized the opportunity to break the deadlock in the 16th minute, unleashing a powerful strike that nestled into the back of the net, giving Chapora Yuvak Sangh the lead. Not content with just one goal, Sharie Gomes made his mark in the 36th minute, doubling the lead with a clinical finish that left the opposition defence in disarray.
The second half saw Chapora Yuvak Sangh's defensive line rise to the occasion, thwarting every attempt made by United Boys of Ambaulim to breach their resilience. In the 51st minute, Albino Pereira stamped his authority on the game, finding the back of the net and extending Chapora Yuvak Sangh's advantage.
In the 71st minute, Chandan Gorekar added the final touch of brilliance for Chapora Yuvak Sangh, sealing their victory with a goal that oozed both finesse and determination.
Elsewhere, Vagator Parish Youth SC defeated OL of Gloria 3-1 in Second Division match at Don Bosco Fatorda ground.
The first half remained goalless, with both teams displaying resilience in defence and a fierce determination to break the deadlock. As the second half commenced, Vagator Parish Youth SC swiftly gained the upper hand. Regan Costa struck the first goal for his team in the 49th minute, showcasing his clinical finishing ability.
Vagator Parish Youth SC continued their attacking onslaught. Mitesh Hoble extended their lead in the 55th minute, leaving OL Of Gloria struggling to contain their opponents. The relentless pressure paid off once again for Vagator Parish Youth SC, as J. Dias found the back of the net in the 76th minute, securing a commanding advantage.
OL Of Gloria fought back valiantly and managed to pull one goal back through Velroy Bosges in the 81st minute, injecting a glimmer of hope into the contest. However, their efforts were ultimately in vain as Vagator Parish Youth SC held firm until the final whistle, sealing a well-deserved victory.