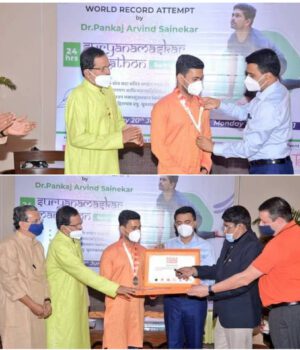 PANAJI: Dr. Pankaj Arvind/Vishakha Sainekar from Goa, has set a new record (Asia Book of Records) of completing 3730 sets of Surya Namaskar continuously over 18 hours, 11 minutes.
Chief Minister, Dr Pramod Sawant in a tweet, congratulated the Bicholim-based youngster for his incredible feat on the International Day of Yoga today and also called upon the society to follow Dr Sainekar as a role model for inspiration to take up Yoga.
Dr Sainekar had completed a record 2015 sun salutations in 12 hours during Goa Yoga Mahotsav, four years ago.
Yogasastra expert Dr Sainekar spoke to www.livenewsgoa.com, revealing the reason he undertook the Surya Namaskar marathon challenge.
"Since over a year now, we are going through the Pandemic. It's also putting a fear in our mind and physical activities have been restricted. Hence to motivate people, I decided to attempt this. On the occasion of International Day of Yoga along with this being Goa's 60th year of Liberation, I planned the Suryanamaskar Marathon," said the 26-year-old Yoga teacher. "Luckily, I got Sunday, which is a day dedicated to Sun, to start the attempt," he added.