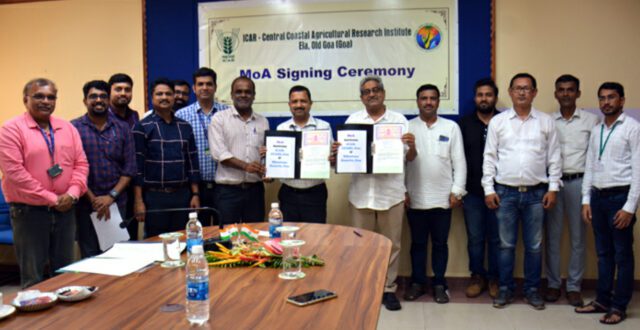 PANAJI: ICAR-Central Coastal Agricultural Research Institute (ICAR-CCARI), Goa, has signed a Memorandum of Agreement (MoA) with the Milestone Resorts, Candolim, for promoting agro-ecotourism.
Dr. Parveen Kumar, Director, ICAR-CCARI, Goa emphasised that this association will have a synergistic impact on the development of agro-ecotourism entrepreneurship.
Underlining that agro-ecotourism is one of the mandates of the Institute, he stated that the scientific team of the Institute will guide technically the establishment of model agro-ecotourism conceptual units in the Chorao island ecosystem of Goa owned by the Milestone Resorts. As per the MoA, the Institute will undertake the contract research on the "Assessment of agro-ecotourism conceptual framework models in an island ecosystem of Goa".
Anubhav Sharma, Director, Milestone Resorts, Goa shared that his firm is aiming to create a model demonstration unit for promoting agro-ecotourism entrepreneurship in the state of Goa with technical guidance from ICAR-CCARI, Goa.
The MoA will be valid for a period of three years. The ITMU and PME Cell of the Institute facilitated in the signing of this MoA, reads a statement on the ICAR-CCARI website.