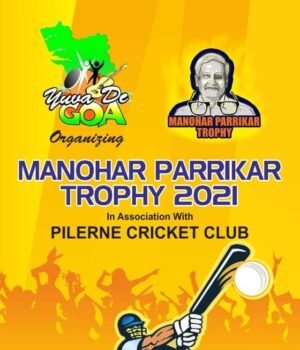 PANAJI: The first edition of Manohar Parrikar Trophy T20 Cricket Tournament will commence on Friday (April 9) at Goa Cricket Association (GCA) academy ground, Porvorim. The first match will be played between Goa Police and Dazzling-Mapusa at 9am. It will be followed by the clash between Young Stars of Maula and Ram 11-Mapusa.
The tournament dedicated to the memory of ex-Defence Minister & CM Late Manohar Parrikar, has been organised by Yuva de Goa in association with Pilerne Cricket Club.
Two matches will be played each day including the semi-finals except on April 13 (rest day), while the mega final is scheduled for April 17. Altogether 16 teams are in the fray with some of the top and upcoming Goan state players being part of the competition.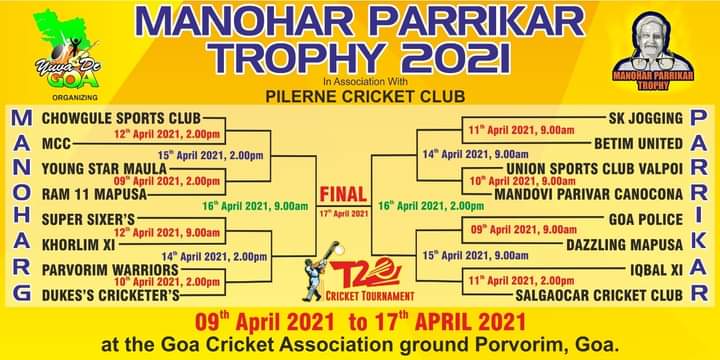 Due to the rising Covid-19 cases in Goa, GCA has laid down strict SOP guidelines to be adhered to by the players. They are as follows:
1. Download 'Arogyasetu' App
2. Wear three-layer masks but not while playing
3. Come ready to play, avoid changing clothes in dressing room
4. Bring your own towel, sanitizer, water bottle
5. Don't share your equipment
6. Soon after training or nets, leave the ground immediately
7.Please don't come if any player has cough, cold, headache, fever or any symptoms of Covid-19
8.Use sanitizer when entering the GCA premises
9. Always keep safe distances
Winners of the tournament will be awarded Rs 1 Lakh and Manohar Parrikar Trophy, while the runners-up will be presented Rs 50,000 and a trophy. Individual prizes include Man-of-the match (Rs 5000 & trophy), Man-of-the series (Rs 5000 & trophy), Best bowler (Rs 5000 & trophy) and Best batsman (Rs 5000 & trophy).