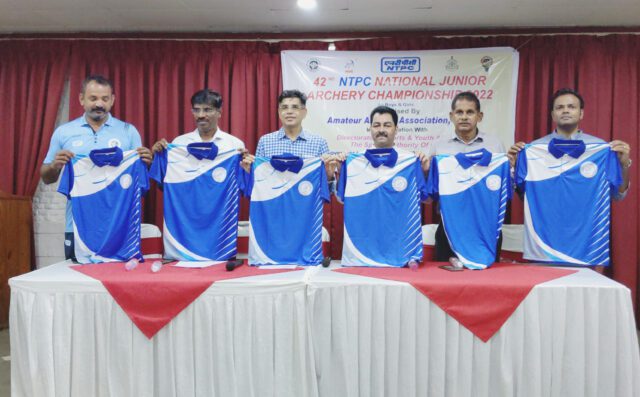 PANAJI: Rising stars of Indian archery – Priya Gurjar, Bishal Changmai, Parneet Kaur and Kushal Dalal are amongst a host of talented young archers from across the country set to participate in the 42nd NTPC National Junior Archery Championship 2022 to be held from November 3-12 at SAG ground, Campal. Amateur Archery Association Goa (AAAG) is organising the national championship under the aegis of Archery Association of India (AAI) and with support of Sports Authority of Goa.
At the Youth World Archery Championship in Wroclaw (Poland) last year, Priya Gurjar (U18 Cadet Compound) became the first Indian archer to win two gold medals at any Youth World Championship. She bagged a total of three medals (2 gold, 1 silver medal). She was part of both the teams which established new World Records – Cadet Compound Team World Record along with Parneet Kaur by securing 2067 out of possible 2160 points; and in Compound Cadet Mixed Duo – with Kushal Dalal (1401 out of 1440 possible points).
Bishal Changmai (U18 Cadet Recurve) became the first Indian archer to win two gold medals at any Youth World Championship with a total of three medals including one bronze. The other notable names from national archery circuit to participate are – Sakshi Chaudhary, Parth Salunkhe, Karni Singh Chauhan, Yaman Kumar, Neeraj Chauhan, K Venkatadari, Rishabh Yadav, Avneet Kaur, Ridhu Varshini, Bhajan Kaur, Ridhi.
In the race for the Team title, Jharkhand continues to be the team to beat in Recurve. Assam, Manipur, Haryana and Maharashtra have been amongst the chasing pack. Delhi, Punjab, Maharashtra are expected to tussle for the Compund crown.
In a press conference at a city hotel today, AAAG secretary Chetan Kavlekar announced the details of the national championship, which begins with Recurve event on Friday morning. After two days of Recurve action, the Compound event will be played on November 7 and 8. The Indian round will take the centre stage on November 10 and 11. A total of 800 archers across 32 teams from all over India, will be seen in action during the prestigious championship.
Chief Minister Dr Pramod Sawant will be the chief guest for the inaugural ceremony while Director of Sports, Dr Ajay Gaude will be the guest of honour on the opening day to kickoff the Recurve round on November 4. Union Minister and AAI president Arjun Munda, and Union Minister and GOA president Shripad Naik will grace the inaugural of Compound round on November 7. The Indian Round will be played from November 10 with Sports Minister Govind Gaude as the chief guest to declare the event open, while Margao MLA Digambar Kamat will be the guest of honour.
Organising secretary Kavlekar expressed confidence that the hosts' team will put up their best effort. "The team has undergone a training camp at Ponda sports complex. The state archers are practising at the venue (Campal) from yesterday. We expect a good show in Recurve and Indian round," said Kavlekar, while picking out Mallika Varde for a special mention as one to watch out for labelling her as the 'next Snehal Divakar'.
Dr. Joris Paulose, Competion Director, Kiran Kandolkar, AAAG President, Dr Neelesh Korde, Working President, Dr Ajay Yadav, Jt Org. Secretary, Osvaldo da Costa, Finance secretary, were also present for the briefing.
GOA TEAM:
BOYS
HARSHAL GAUDE
MOHAMMAD RASID KUTTY
SUJITH ROSHAN
SANKALP PARAB
SHREYANS SOLANKI
PANKAJ MAIDA
LALAMA MEITEI
RAJNIKANT RAJBHAR
YATIN KAUSHIK
LENIN OINAM
SACHIN G.
GIRLS
MALLIKA SINAI VARDE
NANDI DEVI SHARMA
RUPAL PATEL
VAIBHAVI TARI
SUYUKTA SARVESH ABHISHEKI
GARGI PARTH MAHAJAN
RITIKA KUMAR
JOSELYN ROY THAYIL
SHIVANI SURLEKAR
COACH
LAXMI PRIYA SHARMA
DEVI PRASASD KAMATH
ROHAN NANODKAR
MANAGER
DIKSHAK NAIK
USHA NARVEKAR
OSVALDO DA COSTA