PORVORIM: Manohar Parrikar Trophy witnessed an epic encounter in Friday's first semi-final with incredible batting performances from Ranji Trophy batsmen, Darshan Misal of MCC and Aditya Kaushik of Khorlim XI, producing great entertainment in the high-scoring match won by MCC by 17 runs at GCA academy ground.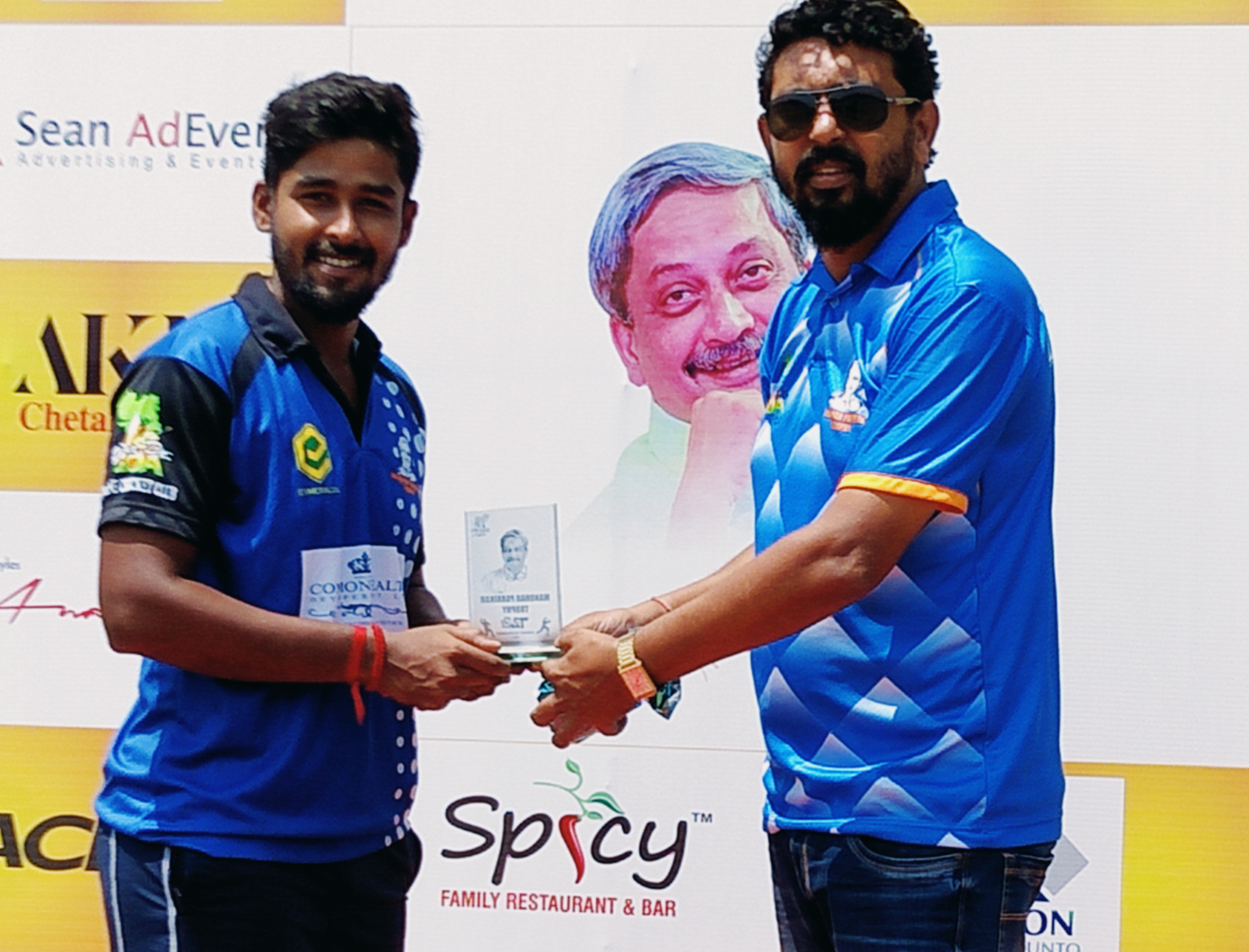 After MCC captain Darshan Misal's whirlwind 82 off 30 balls including the fastest fifty of the tournament in 21 balls, powered MCC to 211/4; Khorlim XI opener Aditya Kaushik single-handedly fought a heroic battle with a knock of sheer class. He was dominant throughout and registered a whopping 12 sixes and nine fours in his unbeaten 135 off 65 balls.
Aditya's brilliant knock – one of the all-time best in Goa T20s circuit, which also saw the fastest century of the tournament coming off 57 balls; went in vain as Khorlim XI were restricted to 194/5 in the run-chase.
Khorlim XI started their chase in a disastrous way as hard-hitting Goa opener Ishan Gadekar was run-out in a mix-up. They kept on losing wickets regularly but Aditya stood tall amidst the ruins bringing up his half-century in 36 balls.
As the asking-rate increased, the 29-year-old went berserk and in the process scored his next fifty runs of just 21 deliveries. He kept on hitting MCC bowlers to all parts of the ground with a Nihal Suralakar over bleeding 27 runs, becoming the most expensive over of the tournament, while Shubham Dessai's cost 21 runs.
No top-order batsman managed to forge a significant partnership with Aditya although experienced duo of Rahul Keni (14) and captain Saheel Dhuri (14) got the starts. It was the sixth-wicket stand of 85 runs between Aditya and Maliksab Shirur (13 not out) that was the highest in the Khorlim XI innings. However, it was too little too late in the end. For MCC, Somesh Prabhudessai took two wickets while Shreyas Usgaonkar and Kaushal Hattangadi took one wicket each.
Earlier, Darshan Misal's day began in the perfect manner as he won the toss and elected to bat on what looked like a fantastic batting surface.
The 28-year-old left-hander was in terrific touch with the bat as he struck seven sixers and six boundaries, also bringing up the fastest half-century of the tournament in the process. Darshan, who came to the crease after the fall of opener Manthan Khutkar (50 runs off 32 balls) in the 12th over, struck three consecutive sixers in a Maliksab Shirur over with the first one of the lot taking Darshan to 50 off 21st ball. The earlier fastest fifty (off 23 balls) of the competition had come from the bat of Porvorim Warriors captain Swapnil Asnodkar, who had also scored 117 runs in that match against Dukes Cricketers to notch up the first century in the tournament.
Darshan, who put on 107 runs for the third wicket with Aditya Suryawanshi, carried on hammering Khorlim XI bowlers adding 30 more runs in nine balls to his kitty before being caught in the deep by Ishan Gadekar in the final over bowled by Rupesh Asgaonkar.
Aditya, who was dropped twice when on 8 by Maliksab and then on 48 by Rupesh Asgaonkar, also scored a half-century with his 51 coming off 42 balls. The No 3 batsman was involved in a 62-run stand with Manthan, who played with a lot of elegance while hitting three fours and sixers each, for the second wicket. 
MCC, who were 88/1 after 10 overs and 134/2 in 15 overs, finished with a flourish as they scored 77 runs in the last five overs. Khorlim XI bowlers Amit Yadav, Rupesh Asgaonkar and Saheel took a wicket each.