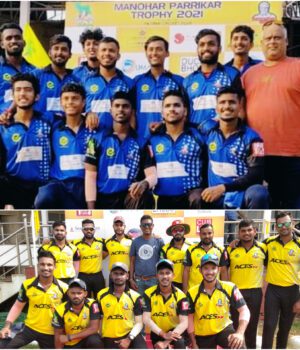 PORVORIM: A cracker of a contest is on the cards on Saturday evening when Margao Cricket Club (MCC) clash with Mandovi Parivar Canacona in the final of the inaugural edition of Manohar Parrikar Trophy T20 Cricket Tournament at GCA academy ground, here under floodlights.
The finale of the iconic tournament organised by Yuva de Goa, pits together the two strongest sides in the competition with the winners set to be richer by Rs 1 Lakh and runners-up purse being Rs 50,000; led by Goa Ranji Trophy seasoned campaigners in the form of Darshan Misal (MCC) and Snehal Kauthankar (Mandovi Parivar). Both players have played match-winning knocks at crucial phases in the knockout contest while leading their teams by bringing in all their experience into play.
MCC'S PERFORMANCE SO FAR
SEMIS: MCC got the better of Khorlim XI in the semi-final by 17 runs.
MCC captain Darshan Misal's whirlwind 82 off 30 balls including the fastest fifty of the tournament in 21 balls, powered MCC to 211/4. Aditya Suryawanshi with 51 and opener Manthan Khutkar (50 runs off 32 balls) brought up their respective second half-century in the tournament.
Khorlim XI opener Aditya Kaushik single-handedly fought a heroic battle with a knock of sheer class. He was dominant throughout and registered a whopping 12 sixes and nine fours in his unbeaten 135 off 65 balls, threatening to snatch a victory from the jaws of defeat at times. But MCC survived the onslaught to emerge victors as they restricted their opponents to 194/5 in the run-chase. MCC leg-spinner Somesh Prabhudessai took two wickets in the semis and his tally for the tournament is up to seven wickets.
QUARTERS: MCC crushed Ram 11 Mapusa by nine wickets in the fourth quarter-final. Young leggie Somesh Prabhudessai bagged four wickets giving away just five runs in his four overs, which also included a maiden, and was named man-of-the match.
After electing to bat first, Ram 11 were shot out for just 84 runs in 19.4 overs. Along with Somesh, captain Darshan Misal (3/15), Shreyas Usgaonkar (2/21) and Nihal Surlakar (1/13) were amongst the wickets. In reply, Aditya Suryawanshi's unbeaten 57 and Suraj Dongre's 22 not out propelled MCC to 88/1 in 9 overs.
PRE-QUARTERS: MCC scored a resounding eight-wicket victory over Chowgule Sports Club in their opening round.
MCC were totally dominant over their rivals chasing the 101-run target in 13 overs with Goa U-23 batsman Manthan Khutkar remaining unbeaten on 52 runs, after another Goa first-team's young pacer Nihal Surlakar wrecked the Chowgule innings with a five-wicket haul to bag the man-of-the match award.
Chowgule captain Mahesh Rao elected to bat after winning the toss but their plan did not work out as his side were bowled out for a paltry total of 100 runs in 18.4 overs.
MCC pacer Nihal, who was a part of Goa squad for BCCI Vijay Hazare Trophy this season, ripped through the Chowgule batting line-up with his 3.4 overs yielding five wickets for just 17 runs. Shreyas Usgaonkar took two wickets while MCC captain Darshan Misal, Somesh Prabhudessai and Kaushal Hattangadi claimed one wicket each.
MANDOVI PARIVAR'S PERFORMANCE SO FAR
SEMIS: Goa Ranji Trophy all-rounder Deepraj Gaonkar outstanding's display inspired Mandovi Parivar Canacona to a 15-run victory over a battling Goa Police in the second semi-final.
Man-of-the match Deepraj scored 44 runs in Mandovi Parivar's total of 181/7. Deepraj then bowled with a great sense of purpose to pick up three crucial wickets for just 24 runs off his four overs, one of them via a sharp return catch to send back captain Chandrakant Ghadi (11). He fielded superbly and also effected a timely run out to swing the match completely in Mandovi Parivar's favour. Goa Police were restricted to 166/8 in the run-chase.
The 23-year-old is a leading candidate for man of the series award with five wickets and 111 runs one of those innings being unbeaten, to his credit. Mandovi Parivar's left-arm spinner Sherbahadur Yadav picked up a wicket to take his tally to nine in the competition, and tops the race to bag best bowler prize ahead of the finale tonight. Kashyap Bakhale scored 55 runs and is also a player in good form with the bat.
QUARTERS: Mandovi Parivar Canacona prevailed over SK Jogging with a hard-fought four-wicket victory in the quarter-final. Replying to SK Jogging's challenging total of 192/4, Mandovi Parivar reached 195/6 in 19.4 overs.
Mandovi Parivar required 59 runs off the last five overs with captain Snehal Kauthankar keeping a cool head while he saw wickets fall at the other end, to guide the 'men in yellow' home with an unbeaten 42 off 28 balls consisting five hits to the fence; and was named man-of-the match. Deepraj Gaonkar chipped in with a cameo of 18 off 10 balls. Kashyap Bakhale scored 39 runs. Ex-Ranji Trophy spinner Sherbahadur Yadav picked up two wickets.
PRE-QUARTERS: Mandovi Parivar-Canacona cruised to a 10-wicket victory over Union Sports Club Valpoi in the tournament-opener. Mandovi's Sherbahadur Yadav came up with a man-of-the match performance grabbing 6 wickets for just 12 runs.
Union Sports Club were dismissed for just 78 runs in 16.5 overs. And it was a stroll for Mandovi in the end. All-rounder Deepraj Gaonkar took two wickets and then remained unbeaten on 49 runs.
ANALYSIS:
Plenty of talents will be on display in the high-voltage final between MCC and Mandovi Parivar Canacona tonight with experience and youth on either side, promising heavy-metal cricket!
While Darshan Misal has already produced a splendid batting performance, his best is yet to be seen in his left-arm spin bowling. However, his fans will be confident that the 28-year-old will deliver against the best batting lineup in the competition that of Mandovi Parivar led by Goa's reliable batsman Snehal Kauthankar, who is yet to set the tournament alight with his stylish batting.
Another terrific contest can be expected between attacking in-form batsman Deepraj Gaonkar of Mandovi Parivar and MCC's young leg-spinner Somesh Prabhudessai. All eyes will also be on Mandovi Parivar's left-arm pacer Abhishek Singh and his tussle with MCC's young and elegant left-handed opener Manthan Khutkar in particular.
With plenty of action to look forward to as the inaugural Manohar Parrikar Trophy comes to a conclusion, the cricket fraternity will rejoice as Goan cricket stands richer with the addition of a strong event to the annual calendar!
SQUADS
MCC: Manthan Khutkar, Rahul Mehta, Aditya Suryawanshi (wicketkeeper), Kaushal Hattangadi, Darshan Misal (captain), Nihal Surlakar, Saish Kamat, Digesh Raikar, Ayush Verlekar, Somesh Prabhudessai, Shreyas Usgaonkar, Jagdish Patil, Shubham Dessai, Suraj Dongre.
MANDOVI PARIVAR CANACONA: Snehal Kauthankar, Deepraj Gaonkar, Amulya Pandrekar, Robin D'Souza, Aniket Desai, Avishkar Mone, Kashyap Bakhale, Dhiraj Yadav, Karan Vasshodia (wicket-keeper), Abhishek Singh, Sherbahadur Yadav, Mahesh Bhaidkar, Tunish Sawkar, Craig Daurado, Sanket Morajkar.