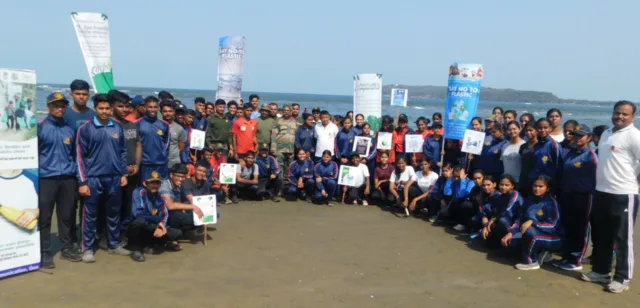 Central Bureau of Communication, Goa and 1 Goa Battalion NCC Panaji organised an awareness programme on 'Mission Lifestyle for Environment' (LiFE) at Miramar beach today. The event was attended by over 100 enthusiastic cadets from NCC who pledged to make a difference in protecting the environment and encouraging others to adopt eco-friendly habits.
The event was led by a sensitisation session on sustainable living by Balaji Kendre, Vice President at Feedback Foundation, who spoke about the objectives of the campaign and emphasised the importance of adopting sustainable lifestyles for a brighter future. The session was followed by a street play by cadets that sought to instill the message of living sustainably. One of the key highlights of the event was the interaction between cadets and the tourists who were present at the beach.
The NCC cadets took it upon themselves to educate the tourists about the importance of keeping the beaches clean and adopting sustainable practices. This interaction proved effective in spreading the message of the campaign and raising awareness about the need to protect the environment.
The event was graced by the presence of Colonel MKS Rathore, Commanding Officer, 1 Goa Battalion NCC Panaji; Gautam Kumar, Deputy Director, PIB Goa; and Riyas Babu, Publicity Officer, CBC Goa.
The concept of LiFE was introduced by Prime Minister Narendra Modi at COP26 at Glasgow on 1 November 2021. Mission LiFE will aims to implement the ideas and ideals of LiFE through a mission-mode, scientific and measurable programme and demonstrate India's commitment to walk the talk on climate change. Mission LiFE is designed with the objective to mobilise at least one billion Indians and other global citizens to take individual and collective action for protecting and preserving the environment in the period 2022 to 2027. Within India, at least 80% of all villages and urban local bodies are aimed to become environment-friendly by 2028.