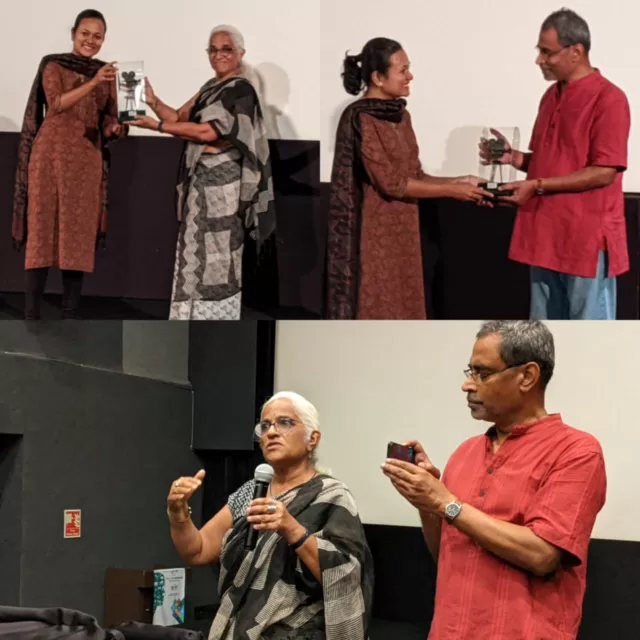 Late danseuse Bhanumati Rao was a driven woman and always focussed although she could be termed bit of a vagabond, says her daughter Maya Krishna Rao.
The National award winner for Best Direction, 'Oh That's Bhanu' – documentary based on Bhanumati Rao, a Bharatanatyam and Kathakali dancer who performed all over the world, was screened by Entertainment Society of Goa's Cinephile Film Club at Maquinez Palace on Thursday.
The screening was attended by director R.V. Ramani and Maya Krishna Rao, who also features in the documentary film, which was made over a period of a few years, from 2014 to 2019. Bhanumati is shown as an elegant and witty woman, whose hearing and memory doesn't usually stand up and led an enigmatic, passionate, yet simple and pragmatic life.
During an interaction after the screening, Maya Krishna Rao shared a few anecdotes about her mother. At some point in time during the filming, my mother left for two days but later said that she won't come back. She asked us to send her things, recalled Maya, who disclosed how she and her sister Tara were always whipped into action by their mother who loved having people around her in various capacities.
While being filmed, she didn't like to be shown walking. She was being inquisitive with the director and many times asked the same questions. Although she was a bit anxious as she started forgetting, she never went to the doctor to get diagnosed, explained Maya.
Documentary filmmaker RV Ramani disclosed that he has tried to weave a narrative of "feeling" in this film on Bhanumati Rao, who passed away last year in her nineties having to her credit a fabulous stage performance at age 92.