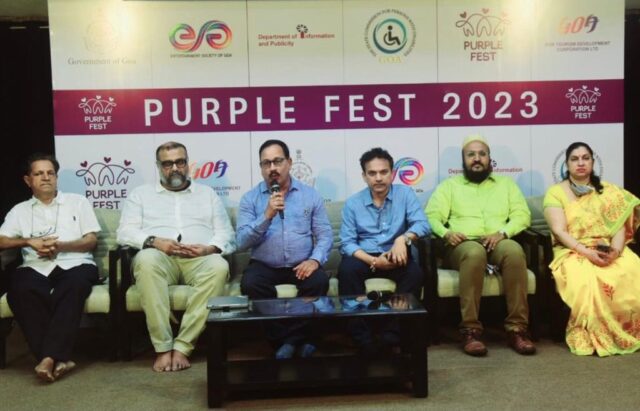 Chief Justice of India, Dr. D.Y. Chandrachud will be the keynote Speaker at Purple Fest 2023.
Celebrating diversity, Purple Fest 2023 will be held from 6th – 8th January 2023 across Goa and is jointly-organised by the State Commissioner for Persons with Disabilities, Goa; in collaboration with the Directorate of Social Welfare and Entertainment Society of Goa.
The three-day fest will have events across multiple venues including Entertainment Society of Goa Complex, Maquinez Palace, Inox Panaji, Manohar Parikar Indoor Stadium, Campal, Sanjay School, Porvorim, Dr. Shyama Prasad Mukherjee stadium, Bambolim, Gera School, Old Goa and Dharbandora, Ponda.
"I am happy that Goa is hosting this national event. The State Commission for Persons with Disabilities and the Social Welfare department are working very hard to make this event remarkable and a successful one in the country," said Minister of Social Welfare, Subhash Phaldessai.
"We have the chief justice of India D. Y. Chandrachud who will be delivering the keynote speech at the first edition of this historic Purple Fest. It's a landmark event with over 4000 delegates registered and We are sure and hopeful it will become an annual event in Goa," added Guruprasad Pawaskar, State Commissioner for Persons with Disabilities, Goa.
"The event has been conceptualised keeping all fields in mind and the best part is that we have ambassadors for 21 disabilities who will create awareness and who are truly an inspiration to all," says Taha Haaziq, Secretary, office of the State Commissioner for Persons with Disabilities, Goa.
Taha also believes that "Goa will now be a destination for another good reason. We are leading in every front and by creating an inclusive society we can ensure dignity with complete empathy keeping in mind the diversity of every individual."
There are various 'Purple Events' which will be held at various locations. Deaf blind convention will be held from January 4th – 6th at Maquinez palace, the 10th Mr and Miss Deaf India, 2023 will be held on 8th January at Gera School, Old Goa. Access India convention is on 5th and 6th January at Sanjay School, Porvorim. 'Reach to Unreached' will take place on January 8 at Maquinez Palace. There will be around 60 students with disabilities from Goa performing along with Shankar Mahadevan for the Purple Fest. Currently the students across the state are being trained by the Shankar Mahadevan Academy.
The festival also has a number of sports events lined up for the persons with disabilities which will be a treat to watch. The Inter-state Blind Cricket Match will be held from 5th – 7th January at Panjim Gymkhana and on Dharbandora grounds. All India Para-Table Tennis championship is scheduled for January 6 and 7 at SAG grounds Campal. The Purple I- run Goa Marathon will be held on January 8, at Dr. Shyama Prasad Mukherjee Stadium.
Various 'Purple Zones' have been curated for people to spend time with Persons with Disabilities, to know more about them and also experience events and soak in the fun. The Purple Think Tank happening at Maquinez Palace, has over 60 speakers who will cover topics on education, employment and sports opportunities for People with Disabilities.
The Purple Experience zone with events such as Antarchakshu, Jagruti Mela and the Inclusive Carnival will be held at the Old GMC Building and The ESG courtyard. These activities have been especially designed to mirror the experience of navigating life with disability.
In order to witness aids and appliances developed to empower Persons with Disabilities the Purple Exhibition is curated, where one can find products made by Persons with Disabilities. Subhash Phaldessai also mentioned that all who are disabled should feel socially and economically empowered at all times and not only during Purple Fest.
Purple Fun will be held from 6th-8th January at the ESG Courtyard. Purple Fun which will be held at various venues such as ESG Panaji, Carambolim, Miramar will have events such as the Car Rally, Bird Walk at Carambolim Lake, Panaji Darshan across the capital city, Accessible Movie Screening, Fun at Miramar beach and a cruise ride; stated a press release.