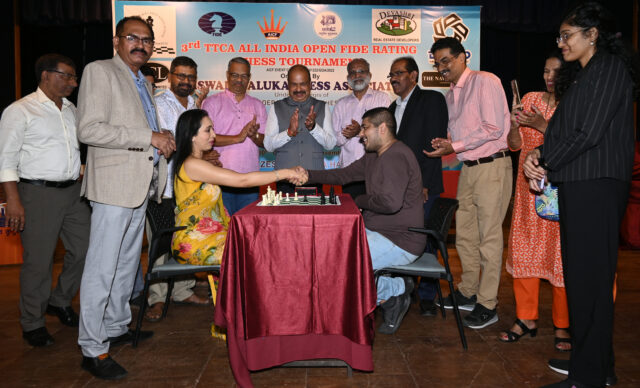 The 3rd edition of TTCA All-India Open FIDE-Rating Chess Tournament 2022 commenced at Institute Menezes Braganza Hall, Panaji, on Sunday.
A total of 240 players from different states, are participating in the tournament. That apart, a player each from Russia and Hungary, are also playing.
After the end of Round 1 , top-seed IM Vikramaditya Kulkarni of Maharashtra, Kaustuv Kondu of West Bengal, Prasanna S of Tamil Nadu, CM Niraj Saripalli of Goa, FM Maheshwaran P of Tamil Nadu, FM Saurahv Kherdekar of Maharshtra, Arpan Das of West Bengal, IM Ratnakaran Balasubramaniam, Sharsha Becker of Kerala, Hemant Ram of Tamil Nadu, among a total of 111 players; are on 1 point.
Earlier, the tournament was inaugurated by Pallavi Dempo, Director at Dempo Group of Companies; Gorakh Mandrekar, Vice-Chairman IMB; in the presence of Dyaneshwar Naik, Chairman Ad-hoc Committee, Mahesh Candolkar, President TTCA, Dattaram Pinge, Arvind Mhamal, Chief Arbiter FA Nandhini Saripalli, Atish Angle, Naresh Pednekar, Prakash Sawant and other office-bearers of TTCA, among others.