PANAJI: Maharashtra's Parth Sushant Salunkhe and Chandigarh's Guncha Ashri emerged men's and women's individual champions respectively while West Bengal were the surprise package winning the mixed team title in the Recurve round at the 42nd NTPC Junior National Archery Championship at SAG ground, Campal here today.
International archer Parth Salunkhe came off a tough battle against Chandigarh's Divyansh Kumar in the final after a 5-5 tie and the tussle headed into one-arrow shoot-off. The experienced Maharashtrian archer shot a 10, while Divyansh scored nine and had to settle for a silver medal.
In the women's individual final, Guncha Ashri got the better of Haryana's Ridhi, who was not up to her best as she is coming of a long injury layoff. Guncha, in her first national championship, was delighted to win the gold medal, as she prevailed 6-2 over experienced Ridhi, who has been a part of India's World Cup-winning Mixed Team but had to settle for a silver medal here.
Yaman Kumar of SSCB beat Abhijit Malik of Haryana for bronze medal in men's individual event while Punjab's Isha defeated S Nageshwari of SPSB 7-1 for third place in women's event.
Earlier, West Bengal team of Aditi Jaiswal and Juyel Sarkar came from behind to beat higher-ranked Jharkhand 5-3 after four sets each. With every set comprising three arrows for each of the archer, Jharkhand team of Reeta Swaiyan and Mirnal Chauhan; took a 2-0 lead at the end of first set. Bengal opened their account in the second set with the help of a tie, taking the scoreline to 1-3; before asserting their supremacy with victory in the third and fourth sets to make it a memorable 5-3 triumph. Top-ranked Maharashtra beat 7th-ranked Chandigarh 5-3 for a bronze medal finish.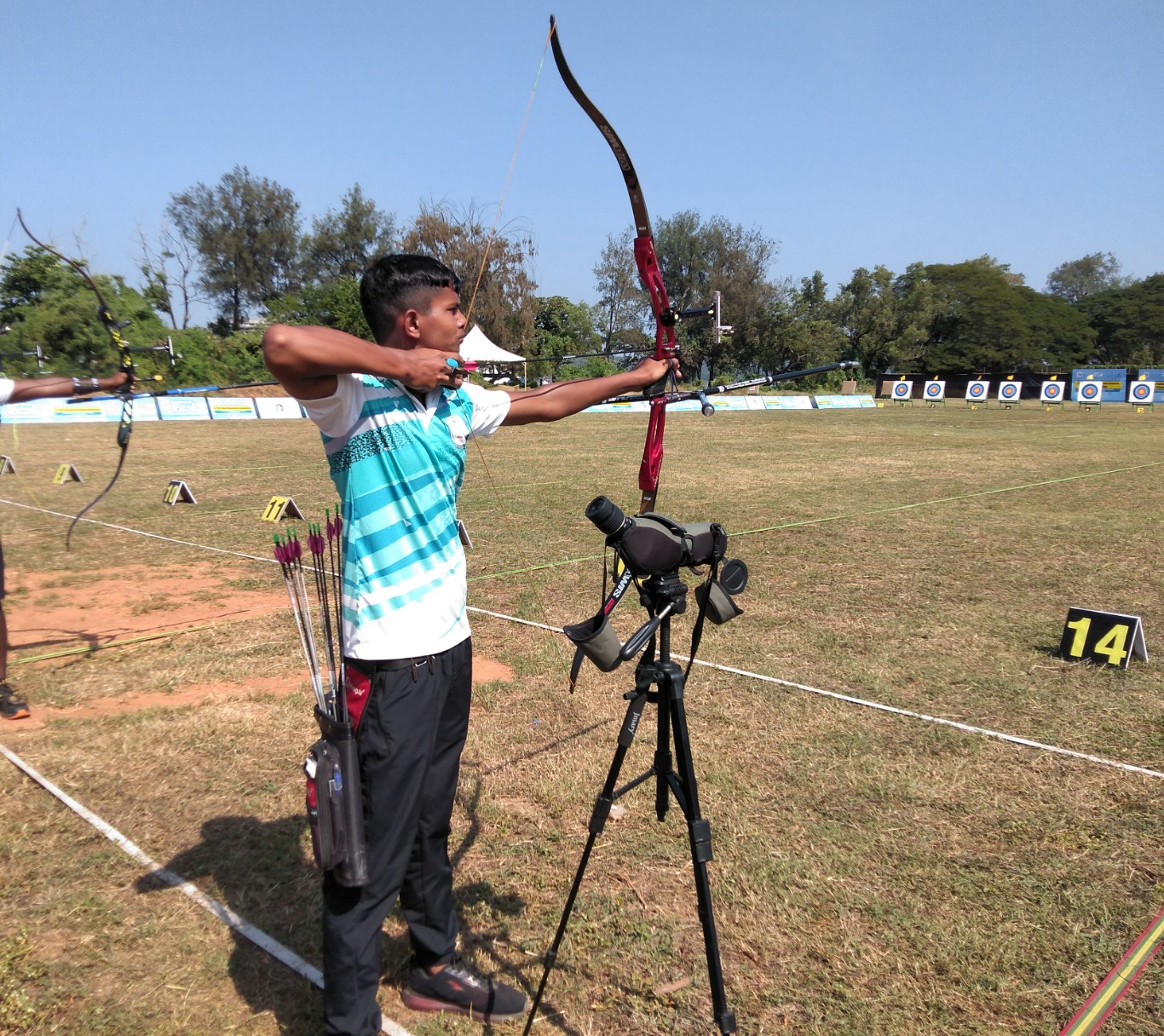 Goa's Rajnikant Rajbhar made a big statement for the archery potential in the host state, by entering the quarter-finals amidst a highly-competitive knock-out field. The Armyman, who trains at SAI archery training facility in Ponda, shocked Jharkhand's higher-ranked Mirnal Chauhan 6-2 to enter the 1/4 stage. There he clashed with Yaman Kumar of Services Sports Control Board. Rajnikant fought valiantly but went down to Yaman 2-6.
The biggest shock of the championship was the defeat of second-ranked Punjab (Isha & Aditya Choudhary) by 15th-ranked Rajasthan (Khushi Kumawat and Mahesh Kumawat) in the Round of 16 Mixed Team competition.
In the mixed team event, Maharashtra had entered the elimination round, ranked first, as the team comprising Parth Salunkhe and Manjiri Alone had a combined score of 1293.
Isha and Aditya Choudhary's total of 1291 points saw Punjab occupying the second place while Madhya Pradesh team of Priya and Amit Kumar are ranked third with 1284 points.
Goa, whose men's team missed the Recurve Team 1/32 round by just 2 points as they finished 17th behind West Bengal while the women's team finished 22nd yesterday, also failed to make it to top 16 in Mixed team event as the hosts finished 22nd among a total of 25 teams.