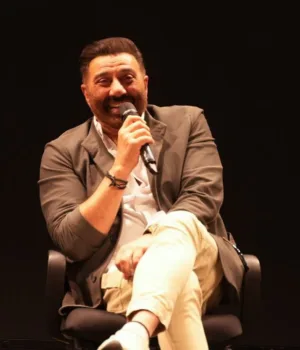 In a captivating session held on the sidelines of the 54th International Film Festival of India, the legendary actor Sunny Deol, along with esteemed directors Anil Sharma and Rajkumar Santoshi, shared valuable insights and reflections on their cinematic journey.
Sunny Deol, who initiated the 'In conversation' moderated by veteran film-maker Rahul Rawail, with his iconic "Hindustan Jindabad" dialogue, expressed gratitude for the comeback of Gadar 2.  Despite facing challenges and a script vacuum for a period, Sunny's unyielding faith in cinema kept him committed, emphasizing the role of instincts in his creative process.
When asked about working with different directors, Sunny revealed his emotional connection to them, considering them akin to family. Directors Anil Sharma and Rajkumar Santoshi praised Sunny's ability to immerse himself in emotional scenes without the need for glycerin, highlighting his humility in receiving compliments and awards.
Rajkumar Santoshi commended Sunny Deol as a "gifted macho with strength and vulnerability," describing him as a director's actor who never compromised on multiple shots despite his established stature. He emphasized that a good actor needs a moment, not just footage, affirming Sunny as a true embodiment of this principle.
Anil Sharma reminisced about Sunny's unparalleled commitment to Gadar, expressing the belief that Sunny's true potential is yet to be fully realized. Sharma also unveiled that Gadar 2 draws inspiration from the Arjun Abhimanyu story of Mahabharat, promising a unique cinematic journey with rebuilt characters.