The third edition of Panjim Gymkhana Members League (PGML3.0) players auction on Saturday, witnessed exciting competition to acquire quality cricketers through a professionally-run day-long bidding process from the pre-assigned amount of points.
Defending champions Dempo Challengers, runners-up Priority Titans, former champions Prescon Panthers, Manas Mavericks, Baale Tigers, RC Goa and new-entrants Desserts N'More Avengers make up the field for the third edition of PGML. All seven franchises came armed with their respective strategies to acquire the best from the list of 117 members-players in the auction.
Former Goa Ranji Trophy all-rounder Robin D'Souza, on his PGML debut, generated a lot of interest. The experienced 43-year-old sparked a bidding war between Desserts N More Avengers and Manas Mavericks. After a fierce round of bidding for the marquee, Manas Mavericks went all the way to acquire the popular player for the highest bid of the auction.
Amongst the other renowned players in the auction today, former Ranji Trophy stars Narayan Kambli and Sudin Kamat were picked by Dempo Challengers; while Priority Titans acquired Mukhtar Kadri and ex-Ranji Trophy pacer Buddhadev Mangaldas.
Prescon Panthers' major picks were Siddharth Ghanekar and Prajyot Rivonker; ex-Ranji Trophy player Kapil Angle and Sachin Sardesai were picked by Baale Tigers. RC Goa, who had retained former Ranji Trophy star Harshad Gadekar, acquired Devidas Kholkar and Aryan Mashelkar among others. The new-entrants Desserts N' More Avengers built their team from the scratch and picked the young Harsh Jethaji as one of their marquee players.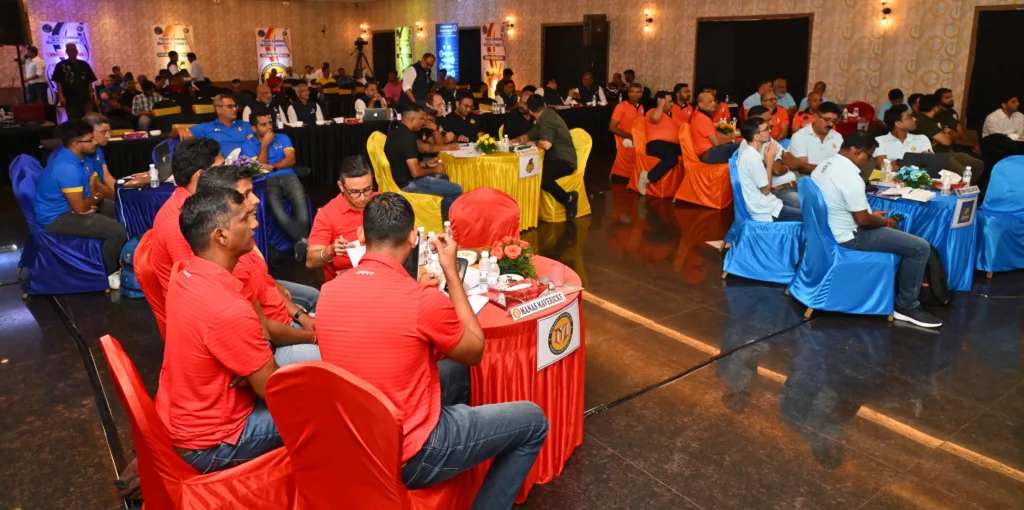 Dr Sagar Salgaocar, Team owner of Desserts 'N' More Avengers; Rajesh Dempo, Co-Owner of Dempo Challengers; Tanmay Kholkar, Team owner of Manas Mavericks; Rajesh Dessai, Team owner of RC Goa; Vinay Kedia, Team owner of Prescon Panthers; Ashwin Chandiok, Team owner of Baale Tigers, Swapnil Nachinolcar, Co-Owner of Priority Titans; graced the occasion.
With the advent of PGML, Panjim Gymkhana has turned into a sports hub with a lot of facilities being created at the original iconic nursery of cricket.
In his opening address today, Panjim Gymkhana president Manoj Caculo announced that new indoor infrastructure has been created to boost cricket. 'Satish Timblo indoor cricket arena'- which is donated by Timblo's family; is ready to be inaugurated. The President also announced that the new squash court donated by Baale Tigers owner Ashwin Chandiok, is ready to be opened.
Panjim Gymkhana secretary Rajesh Khaunte proposed the Vote of Thanks.
Members of the Panjim Gymkhana Managing Committee and PGML Governing Council headed by former Goa Ranji Trophy team captain Suresh Mahadevan, were also present.