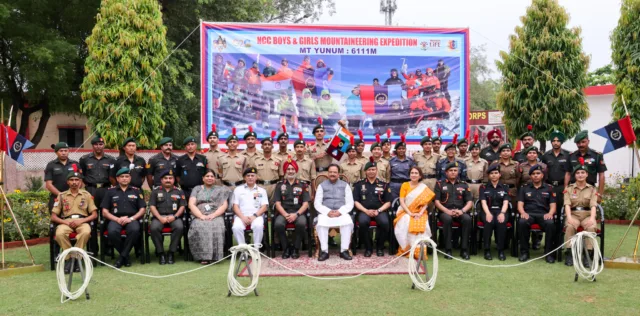 The All-India NCC Boys and Girls Mountaineering Expedition-2023 to Mount Yunum (6111m) in Himachal Pradesh, was flagged in by Raksha Rajya Mantri, Ajay Bhatt during an event held in New Delhi on June 26, 2023. He also awarded certificates to NCC Cadets who successfully undertook this expedition.
Addressing the young cadets on the occasion, the Raksha Rajya Mantri lauded the efforts put in by the expedition team. He also exhorted them that this adventure trip should make them confident to take on more such activities and these activities bring the qualities of leadership and camaraderie in the cadets.
Ajay Bhatt highlighted that, NCC provides ample opportunities to cadets to participate in a large number of adventure/sports activities like Mountaineering, Rock Climbing, Parasailing, Trekking, Skiing, Desert Safari etc. He stressed that there is no other such organisation which provides and encourages its cadets to participate in so many adventure activities. It also offers a unique opportunity for cadets to see different parts of the country and meet different people, thus helping in strengthening country's unity and strength, he added.
The team consisting of five officers, two JCOs, 11 other Ranks, one girl cadet instructor and 19 NCC cadets was flagged off by Rajya Raksha Mantri in Delhi on 17 May 2023. The team reached at Bharatpur Base Camp on 14 June after necessary training and acclimatisation at Atal Bihari Vajpayee Institute of Mountaineering and Allied Sports, Manali. The first team led by team leader Col Amit Bisht, SM summited Mount Yunum on 17 June and Second team led by Deputy Team Leader Major Saumya Shukla summited the peak on 18 June 2023.
The expedition team after successful summiting Mt Yunum located in Lahaul region of Himachal Pradesh, came back to Bharatpur Base Camp on 18 June.