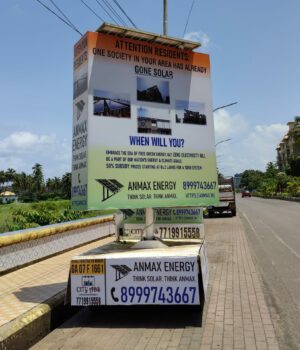 by Anant Kochhar
Anmax Energy Pvt Ltd has installed the first of its kind on-grid Solar Rooftop System with net-metering for a co-operative group housing society. The system powers the common area during daytime, and exports excess units back to the grid which offsets the night time needs; in this way, the society gets a zero electricity bill every month.
The plant has given 75% production during the monsoons, and is giving 115% units during sunny days. If the society ends up exporting more units than it has consumed during the year, it will receive a cheque from the electricity department, calculated at Rs. 3.20/- per unit, as per the Power Purchase Agreement. All of this has been done with full government support and subsidy.
The current solar scheme, MNRE phase II (ending Mar'23), provides 50% subsidy via empaneled solar installers to societies. Anmax Energy, pioneer in Goa for society solar projects, provided the subsidy seamlessly to the beneficiary society. The society plans to pass on the monthly benefit to its resident by reducing the monthly maintenance charges.
The forward-looking management committee of the society opted to go solar because of crystal clear environmental and economic benefits. They wanted to leave an eco-friendly legacy for the next generation of the society, take advantage of first-come first-serve government subsidy, and contribute directly towards India's self-reliance energy goals.
If you or your society is interested in going solar, please connect with Anmax Energy Pvt Ltd via their website https://anmax.in/ , or directly call director, Anant Kochhar at 9650325674.