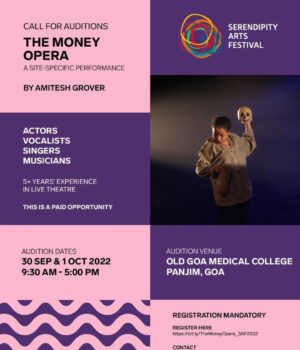 PANAJI: The 5th edition of Serendipity Arts Festival will bring together artists from various disciplines including, visual arts, craft, dance, theatre, music, senses and culinary. One such curator is Amitesh Grover who will be curating a theatre act at the festival. Delhi-based Amitesh Grover is an award-winning director who incorporates various aspects of arts in the form of photography, text, installations, visual arts and performance.
For the 5th edition of the festival, Amitesh Grover is curating a theatre act, "The Money Opera" and is looking for actors, vocalists, musicians and singers from Goa with 5+ years of live theatre experience.
The auditions will be held at the Old GMC, Panaji on 30th September and 1st October. This paid opportunity will give Goan talents a global platform to showcase their talents and be part of the esteemed festival. The auditions will be held between 9:30am to 5pm which requires prior registration and interested individuals can contact Sarthak Narula at 96461 06077.
For more information: https://www.serendipityartsfestival.com/
Registration link: https://bit.ly/TheMoneyOpera_SAF2022