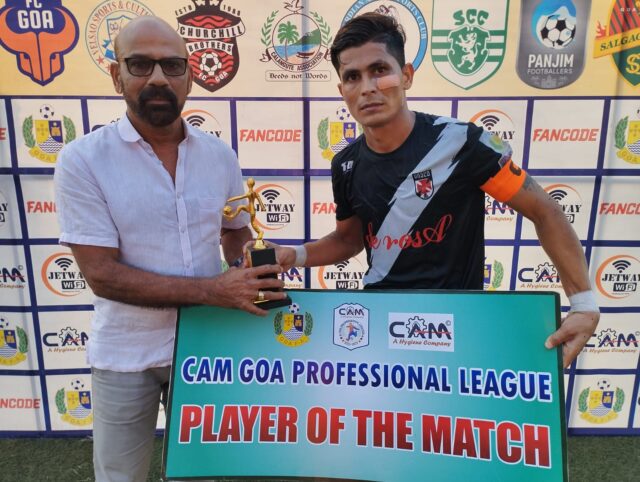 Vasco SC recorded their first win of the competition following their 1-0 win over Calangute Association in the CAM Goa Professional League at Duler stadium, Mapusa.
This is the first win for the Port-Towners who earlier lost all their previous three matches. For Calangute this is their first defeat, as they had previously drawn two and won the other two games.
In the 15th minute, Calangute squandered the best chance to take the lead when Junior Carret managed to break the Vasco defence with his pace, but with just the keeper at his sight, he fired wide.
At the other end, Ganesh sent in a perfect through pass to Felix Chidi, who was also lone on goal but Presely Mascarnehas came up with a fine block. Later, Presley was quick to react to clear a Cavin Lobo cross before it could find Felix.
Later, Vasco's Cavin Lobo had a chance to get his name on the score sheet but his well taken freekick missed the side post.
The finishing wasn't good from Vasco's Felix, as he squandered another chance in the 35th minute when he was set on goal by a midfield pass only to see him fire wide.
Vasco SC who dominated the first half finally broke the deadlock in the 35th minute when Savlon Fernandes attempted a shot from inside the box. The strike deflected off a Calangute player before sending the goalkeeper in the wrong direction.
With 10 minutes to go, Calangute had a chance to draw level when Calangute's right-winger sent in a long cross in the area but Junior Carret missed a diving header
Later, Savlon Fernandes made another fine run in the area and tried to find Felix, but his pass was intercepted by Calangute's defence. However the rebound fell to Savlon, who tried a shot this time, only to see it go way off-target.