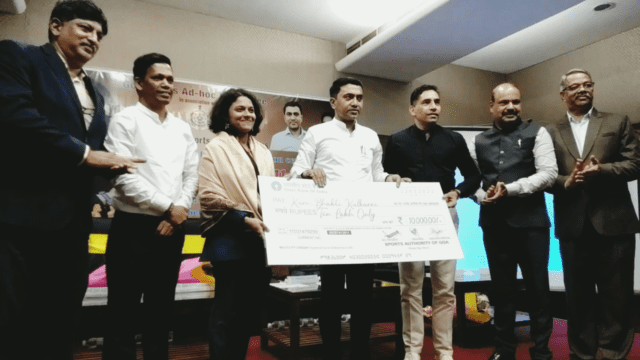 PANAJI: Bhakti Kulkarni, Goa's legendary chess player with over two decades of medal-laden career, was rewarded with historic Rs 10 Lakh cash prize and Sports Authority of Goa job offer by Government of Goa, during a felicitation ceremony for being a bronze-medalist as a member of Indian Women's team at the Chess Olympiad 2022.
Chief Minister Dr Pramod Sawant and Sports Minister Govind Gaude showered praises on the 30-year-old and hailed Bhakti as a role model in the Goan sports circuit, which compelled them to reward the Margao-based chess star with first of its kind award that is not stipulated in any existing policy.
Dr Sawant also declared that individual international medal winners for the country, will henceforth straightaway be rewarded with job at S.A.G, while those from team-sport will be eligible on sports quota based on merit with other departments like Police and Fire Service among other job opportunities. Gaude revealed that the upcoming National Sports Day (August 29) will see pending dues of meritorious sportspersons cleared.
Bhakti, who learnt to play chess when she was a toddler at 2 and a half years, was overjoyed on the occasion as she was surrounded by her family, friends and Dronacharya awardee coach Raghunandan Gokhale on the milestone day.
The felicitation ceremony was organised by Goa Chess Ad-hoc Committee and Directorate of Sports.