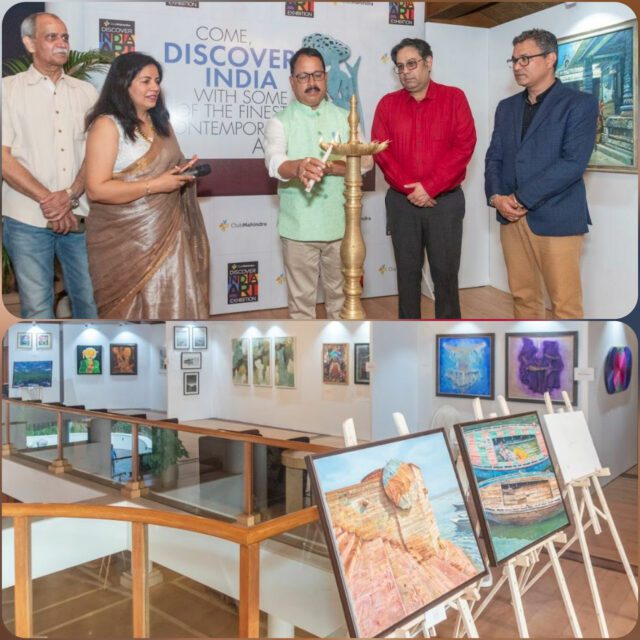 Club Mahindra has been providing unique and immersive experiences for more than 25 years now. One such new experience is the 'Discover India Art Exhibition', which was recently inaugurated at the Unwinding's Lounge of Club Mahindra Varca Resort in Goa.
The exhibition was formally launched in the distinguished presence of Minister of Social Welfare, River Navigation, Archives & Archaeology, Subhah Phaldessai. Also present on the occasion was ambassador Amarendra Khatua, Pratik Mazumder – Chief Marketing Officer of Mahindra Holidays & Resorts India Limited, Kripal Negi – Regional Head – Goa, Mahindra Holidays & Resorts India Limited alongwith Gargi Seth – Art Curator – Indian Art Circle.
Being held from 1st December 2022 to 15th January 2023 and curated by Gargi Seth, Indian Art Circle; Discover India Art Fair is a landmark exhibition celebrating the distinctive Indian aesthetic milieu expressed through contemporary visual art. It maps the bold and lucid inspiration of young artists that are shaping India's powerful cultural legacy. The exhibition explores the complex matrix of India, unravelling some tangible and subtle layers beautifully harmonising with Club Mahindra – India's leading leisure Hospitality Company with 85+ resorts that span the geo-cultural breadth of India. The present exhibition also portrays a youthful and dynamic creative perspective, a collection of quintessential landscapes, emotive figurative, and imaginative abstracts, states a press release.