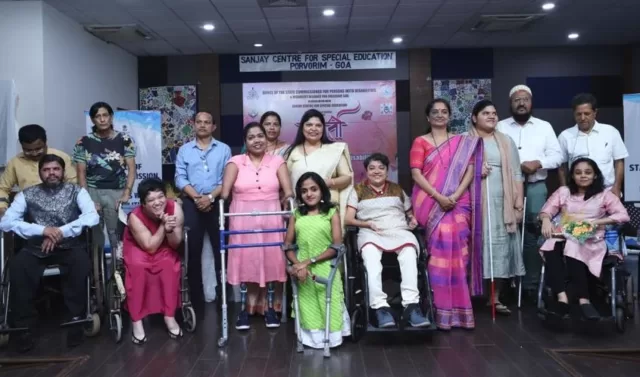 Office of the State Commissioner of Persons with Disabilities and Disability Alliance for Inclusive Goa celebrated International Women's Day with Raksha Dangui, Anupa Ashok Pilgaonkar, Fulrani Kinelkar, Fredricka Menezes and Suraiya Khan being felicitated. Preethi Srinivasan, founder of Soulfree, was the Keynote speaker on the occasion.
The programme, 'Spoorthi' included a talk on Empowering Women with Disabilities, was held in association with Sanjay Centre for Special Education at Porvorim.
Founder of Soulfree a foundation in Tamil Nadu, Preethi Srinivasan who expressed joy at being invited to Goa, explained to the audience how the only difference between people and her in respect to disability, saying "your body cooperates with you, but mine doesn't."
She went on to highlight the issues of people with disabilities as she asked: "so, why can't I get the same opportunity as you? I can't even go and watch a movie; I can't go even go to a favorite restaurant? And lockdown or no, moving about freely for persons with disabilities is limited.
Highlighting issues that women face, Srinivasan using the phrase, "'ek toh ladki hai, uppar se apahij' (first of all she is a girl, on top of that disabled) has become a general thought where men are perceived as being mightier and intellectual and women have been discriminated throughout, even today" she highlighted through various examples.
After her accident, Srinivasan was unable to continue studies back then for there were no ramps, no lifts and attendance rules were not flexible enough specially for the practical component. "But I didn't give up. I studied medical sociology through correspondence, and then started Soulfree," thus becoming the voice of people like her, who have disabilities and is the face of the invisible segment of society.
Through her interaction, she managed to instill hope, and gave the audience an understanding that those with disabilities don't need sympathy, but need to be made to feel inclusive through various steps that need to be taken from policy change, implementation, mindset change and being more sensitive.
On the occasion, Sulakshana Sawant, President of Padmini Foundation was the chief guest for the function and Alka Phaldessai, State Executive Member, BJP was the Guest of Honour. Also present was State Commissioner for Persons with Disabilities, Guruprasad Pawaskar and Secretary, Office of the State Commissioner for Persons with Disabilities, Taha Haaziq.
Pawaskar introduced the dignitaries and highlighted the importance of such a function. "Women are the backbone of society. And women with disabilities have more power to change their own lives, and those of people around them. There is positive growth in society and through political will, and after the success of Purple Fest issues of persons with disabilities is being highlighted to bring about change," he said.
Sulakshana Sawant in her address spoke about how persons with disabilities can be inspiring to society.
She added that women are strong, but when faced with challenges, it becomes tough, and commended Srinivasan for her grit in coping with her struggles and launching Soulfree that has benefitted so many people. Creating employment opportunities, developing technology are important factors to create inclusivity that is needed, she mentioned.
Speaking on the occasion, Alka Phaldessai said that on International Women's Day people need to remember to work towards creating inclusivity. "It is important to remember that women with disability are capable and they are valuable members of society and have the potential of empowering and help strengthen society".