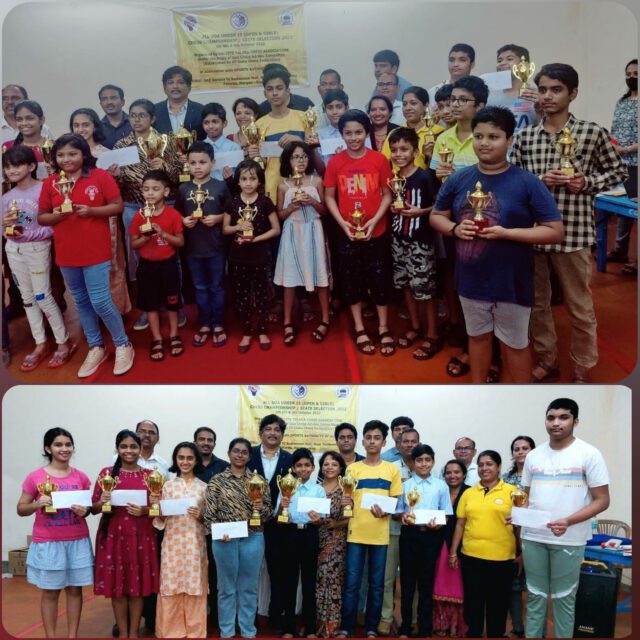 PANAJI: Ethan Vaz of Salcete won Late Ratna Murari Bhat Trophy (U-15 chess open) while Asmita Ray of Mormugao clinched the Late Godavari P. Keni Trophy (U-15 girls chess) recently. The tournament was conducted by Salcete Taluka Chess Association at SAG Indoor hall, Fatorda-Margao.
Ethan Vaz (2059) of Salcete won four matches. He drew with Joy Kakodkar in the final round and Vivaan Ballikar in the 5th round to annexe the title at the U-15 State Selection (Open) Tournament to win the Late Ratna Murari Bhat Trophy and qualify for the Nationals.
Vivaan Ballikar (1536) of Salcete who beat Atharv Nitin Narayan in the last round, stood second while Edrick Vaz also of Salcete who beat Ali Amanat in the final round, finished third. The fourth spot was grabbed by Joy Kakodkar of Tiswadi. The fifth and sixth spots were taken by Aiden Jesus Savio Grao and Love Kakodkar both of Tiswadi.
In the girls section, Asmita Ray of Mormugao beat Alana Julieta Menezes Andrade of Tiswadi to annexe the Girls U-15 title and the Late Godavari Purushottam Keni Trophy. Strong contender Netra Sawaiker of Ponda took the second place by beating Lyia Marysil Silveira of Salcete while Sani Gawas of Salcete claimed the third place by beating Sayed Maizah of Mormugao.
Alana Andrade had to contend with the fourth place while Shriya Patil of Salcete beat Jensina Sequeira of Salcete to take the fifth and Rachel Pereira of Salcete beat Mahdiya Sayed of Mormugao to finish sixth.
In the age group category U-7 Open, Vihaan Tari clinched first place whilst Prayank Gaonkar stood second. In U-9 Open, Shubh Vishnu Borkar stood first and Saras Summer Powar finished second. In the under-11 Open, Aashman Adhiraj Naik Dessai topped while Sairaj Narvenkar stood second. In the u-13 Open, Ali Amanat stood first whilst Aniket Ekka stood second.
In the age group category U-7 girls, Shreeya Shamba Bandodkar stood first whilst Shravya Chowdhari stood second. In U-9 event, Rochel Pereira stood first and Jensina Sequeira stood second. In the U-11 event, Maizah Sayed stood first and Lyia Marysil Silveira stood second. In the U-13 competition, Valanka Fernandes stood first whilst Pushti Bhonsle stood second.
The Chief Arbiter for for tournament was Ashesh Keni, FA; Deputy Arbiter Jyotsna Saripalli, FA and FA Asha Shirodkar.
The top six players in each category won trophies and cash prizes of Rs. 15000. The prizes were donated by Bhagawathi Bhat in the name of her late mother Ratna Murari Bhat; and by Ashesh Keni in the name of his grandmother late Godavari Purushottam Keni.