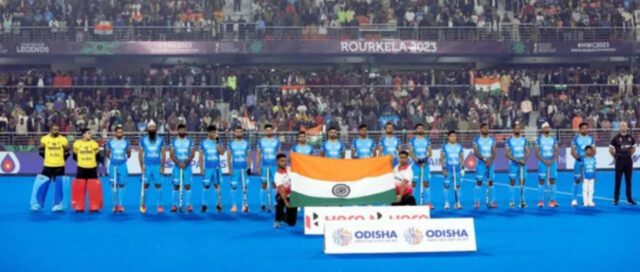 Hosts India made a splendid start to their campaign at the FIH Odisha Hockey Men's World Cup 2023 Bhubaneswar-Rourkela as they beat Spain 2-0 in their first pool D match here at the spectacular crown jewel of world hockey – the Birsa Munda Hockey Stadium on Friday.
Playing in front of a boisterous home crowd comprising of over 20,000 passionate global hockey fans, it took a few minutes before both teams could shake off the nerves and settle into the match. It was the last three-and-a-half minutes of the first quarter that got the Indian fans rise up on their feet when the home team unleashed potent attack, winning back-to-back PCs. First it was Hardik Singh whose long scoop beat the Spanish wall of defence, landing at Shamsher inside the circle. He did well to find Spanish defender's foot to fetch India their first PC. But the chance went begging as Jarmanpreet's flick went wide.
Only minutes later, Nilam Sanjeep Xess – the son of the soil with roots in Sundergarh region won India a bright opportunity when he skillfully earned his team the second PC of the match. This time, although Harmanpreet Singh's dragflick was blocked away by the first wave of Spanish rushers, Amit Rohidas who also belongs to Sundergarh region picked up a fine rebound and slapped the ball away to the top of the post.
The crowd erupted in joy as the two Odia lads not only helped earn India's first goal of their opening match but this goal also happened to be India's 200th goal at a World Cup.
India went on to build their game in the second quarter, creating mouth-watering opportunities but they had to work hard till almost the end of the second quarter to beat the spirited Spanish defenders. In the thick of action was Hardik Singh, who showed just why he is a class apart, skillfully dribbling beyond the 25m mark, driving into the circle looking for striker Lalit Upadhyay to set up a goal. Cunill Pau who attempted to stop Hardik's pass happened to get a touch on the ball which deflected into the goal.
In the meantime, Krishan Pathak who alternated in the post after Sreejesh cleared Spain's attempts in the first quarter, was impressive in his efforts as he saved a PC – keeping a clean slate for India.
Comfortably leading 2-0 at half-time, India didn't slow down their pace but instead they upped the ante in their attack and only minutes into the third quarter, Akashdeep Singh helped India win a penalty stroke. But unfortunately for the home team, Harmanpreet's strike was stopped on the line by Spain's goalie Adrian Rafi.
India won a few more PCs in the following minutes but could not find success but they did well to hold on to the lead with all their might, brilliantly saved a couple of PCs earned by Spain and marched into their second group stage game on Sunday with three points in their kitty.
At 1900 hours IST on 15th January 2023, India will take on England in their second pool D match at the FIH Odisha Hockey Men's World Cup 2023 Bhubaneswar-Rourkela.
Matches will be live on Star Sports Select, Star Sports First, Star Sports2.