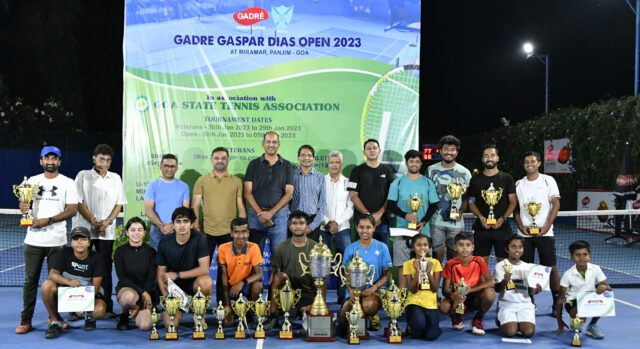 Talented teenager Aishwarya Jadhav achieved a stunning treble, Kafil Kadvekar won the men's singles title while U-16 champion Sarthak Gaikwad was named the most promising player as Goa's iconic tennis tournament – Gadre Gaspar Dias Open 2023, concluded at Clube Tennis de Gaspar Dias, Miramar on Sunday.
It was total domination by Maharashtrian tennis players as they won all the events from U-12 to seniors in men's and women's categories.
https://www.youtube.com/live/_F-WhiDRpcE?feature=share
One of the most talented youngsters from Maharashtra, Aishwarya bagged the girls' under-16 title with an easy win against Ritika; then partnered Arshad Dessai for a hard-fought victory over Kafil-Prapti in mixed doubles final before a dominant win against Prapti in the ladies singles title clash.
https://www.youtube.com/live/yAkFCJTksNA?feature=share
Kafil, who played his heart out with Prapti in the morning in mixed-doubles final but only emerged runner-up, displayed super strategy and immense endurance level to get the better of powerful Ashwin Narsinghani 7-6, 7-6 in a magnificent display of power-packed tennis. Ashwin committed too many unforced errors and paid the price for it.
U-16 boys champion Sarthak from Kolhapur stood out as the youngster with most promise as he defeated some better known Goan players in the men's category in the earlier rounds.
https://www.youtube.com/live/CVEm1zd1y7M?feature=share
Results:
Men's singles: Kafil beat Ashwin 7-6, 7-6; Ladies singles: Aishwarya beat Prapti 6-0, 6-1; Mixed doubles: Aishwarya-Arshad beat Kafil-Prapti 2-6, 7-6, 10-7; Men's doubles: Vikrant Tandale/Siddhant Deshpande beat Tejas Shevde/Nishad Shevde 3-6, 6-2, 10-5. Boys Under-12: Akhilesh Chavan beat Aditya Jadhav 4-3, 4-3; Boys U-16: Sarthak Gaikwad beat Siddhesh Khade 4-2, 4-3; Girls U-16: Aishwarya beat Ritika 4-0, 4-0; GirlsU-12: Harsha beat Gargi 4-0, 4-0.