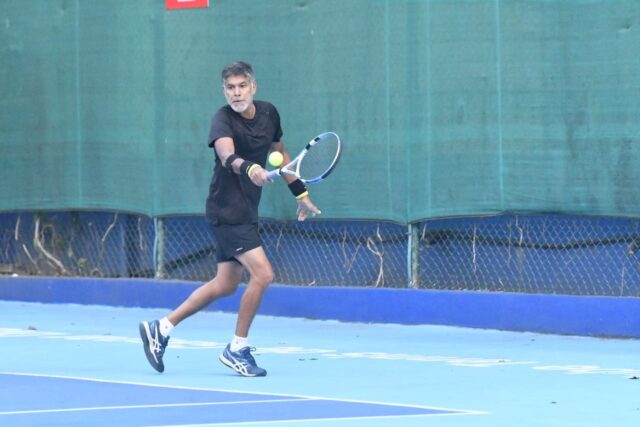 Goa's biggest annual tennis event Gadre Gaspar Dias Open 2023 tournament got underway on Thursday. The tournament was declared open by the main sponsor of the event Arjun Gadre, owner of the Gadre group.
"The Gadre Group is proud to be associated with the Gadre Gaspar Dias Open 2023. We have been associated with the tournament for the last several years and this year has witnessed a record number of registered entries which suggests the event is getting increasingly popular among tennis lovers in the state across age groups," Gadre said at the inaugural event.
https://www.youtube.com/live/IFfKvg9c50E?feature=share
Veteran players participating in the 45+ years singles and veterans doubles for the 90+ years categories, stepped out since early morning onto the courts at Clube Tennis de Gaspar Dias and the Panjim Gymkhana on Day 1. The one-set matches were keenly contested by the veteran participants.
https://www.youtube.com/live/sc7qBPdzTBc?feature=share
In the veteran 45+years singles category matches held on Thursday, Abhishek Sharan beat Jijesh Nair (6-0), Gaurav Shrivastava beat Rjnish Dhall (6-2), Dimitry beat Sameer Samant (6-3), Chetan Ganjali beat Kishor Metry (6-2), Rohan Menezes beat Rahul Gandhi (6-3), Noel Noronha beat Majid Sanadi (6-2), Pankaj Kamra beat Kedar Tari (6-0) Nikunj Gupta beat Deepak Devrukhkar (6-4), Yenepoya Ajml beat Suhel Syed (6-0), Anirudh Kore beat Mackelroy Barreto (6-0), Sumant Paul beat Sachin Popli (6-1).
In the veterans 90+ years doubles category, Sumant.P/Prafful.N beat Srinivas/G S.Hathwar (6-2), V.Khadke/Jaydeep Wakankar beat M.Hudli/Sagar (6-2), Baba Naik/ Anurag beat S Khedekar/S Panhalkar (6-2), H Mangaonkar/R Dhadoti beat S Parchani/ U Bavadekar (6-3), Laxman/Sameer.K beat Nitesh.N/Milind.W (6-0), Sanjeev/Gaurav beat Majid/Raviraj (6-4), Sachin/Kevin beat Ravindra/Anand (6-1), (6-2), Hemanshu Vernekar/Soumil Sheth beat Vivek/ Ashwin (6-3), Sunil Lonkar/Abhijeet Mohite beat Swapnil Bugde/Kapil Nair (6-0), Vijay Mangaonkar/R. Dhadoti beat S. Parchani/U. Bavadekar (6-3), Surjit Lamba/Prithvi Naik beat Allan Fernandes/Sunil (6-2).
In all, 386 tennis players have registered for the event, out of which 199 entered the veterans category, while 187 players have registered in the open category. In 2022, the tournament had 340 participants.