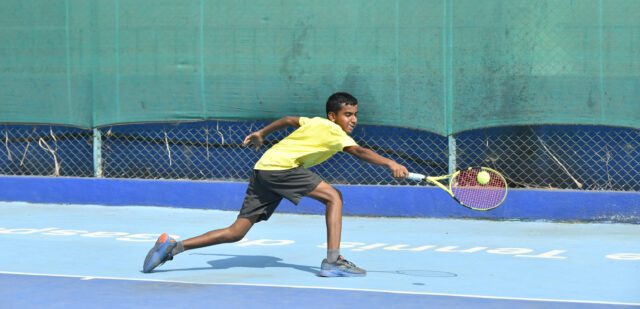 MIRAMAR: The annual Gadre Gaspar Dias Open Tennis Championship will conclude on Sunday with an exciting lineup of finals on the cards, at Clube Tennis de Gaspar Dias here.
Organised by Clube Tennis de Gaspar Dias in association with Goa State Tennis Association, the tournament this year has witnessed high-quality tennis in both the veterans and open events.
The day begins with an all-Maharashtra tussle in the mixed-doubles final where Kafil/ Prapti go head to head against Arshad/Aishwarya at 9am. Arshad/Aishwarya came through a hard-fought semi-final against Goa's Simran and Mika on Saturday night. Click👇 to watch!
https://www.youtube.com/live/iiWGEwfYM3g?feature=share
Goan pair of Tejas and Nishad Shevde will have their task cutout against Maharashtra's Vikrant/ Sidhhant in the men's doubles final at 4pm. In the semi-final on Saturday night, the brothers pair looked in fine touch as they brushed off the challenge from Rahul/Sarthak 6-3, 6-4. Click👇to watch!
https://www.youtube.com/live/CsC5a18Ur94?feature=share
In the ladies singles final, once again it's a Maharashtra pair Prapti Patil and Aishwarya Jadhav locking horns in what is expected to be a close contest given the range of groundstrokes and powerful serve as far as Aishwarya is concerned while Prapti is armed with top-spin prowess that neutralised defending champion Ritika in the semi-final.
The men's singles showdown will witness an exciting Maharashtra duo as last year's U-16 champ Ashwin Narsinghani aims to bag the senior title this time but knows how strong Kafil Kadvekar's challenge can be as both of them had teamed up in the doubles event, going down narrowly in the semi-finals to Vikrant/Siddhant.
https://www.youtube.com/live/h7ZhP4f8ya8?feature=share
Earlier on Saturday, Maharashtra's Sarthak Gaikward won the boys' under-16 title while his fellow state-mate Akhilesh Chavan topped boys under-12 event.  Sarthak got the better of a fighting Siddesh 4-2, 4-3 in the title clash. Akhilesh beat Aditya 4-3 /7-4/, 4-3 /7-5 with both mini-sets stretching into tie-breakers.
In the girls U-12 final, Harsha outplayed Gargi 4-0, 4-0; while the U-16 title was bagged by Aishwarya, who thrashed Ritika 4-0, 4-0.