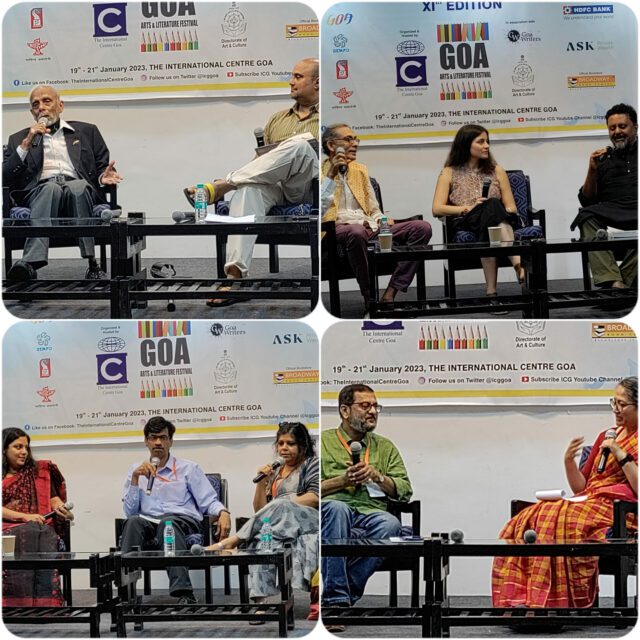 War hero, Major General Ian Cardozo stressed the need for India to become the happiest country in the world. The war hero, who was under the spotlight for the second, consecutive day of the 11th Goa Art and Literature Festival organised by the International centre of Goa in association with Goa Writers said, "India can easily become the most powerful country in the world. However, it may be a better idea for India to become the happiest country in the world. This way, India would need to focus on eliminating poverty completely and ensuring that nobody remained poor and starving in our vast country."
The General who recounted multiple anecdotes from his soul-stirring autobiography, "Cartoos Saab" recounted the time when he saved a young soldier in the seas off Kerala, despite possessing only one leg himself. He also recounted the valour of the Gorkha soldiers, whom he considered the bravest in the world, when he cited the real life incident of how a brave Gorkha mother sent her youngest son to join her older son's army regiment, even as she was told of her older son's martyrdom. "I do not want our family tradition and line with the Indian army to be broken," the Gorkha mother is quoted to have said.
Earlier in the day, Nobel prize-winning economist Abhijit Banerjee and his illustrator colleague Cheyenne Olivier regaled everybody about their cook book: "Cooking to save your life" Banerjee maintained that everyone on this planet could cook and even excel at it, if they applied their minds and learnt the basics properly.
Two excellent sessions, the first with award winning author, Hansda Sowvendra Shekhar in conversation with the festival co-curator, Vivek Menezes and the second featuring Kannada author, Vivek Shanbag in conversation with journalist Vinutha Mallya stood out for their deep insights.
Hansda had the audiences in raptures as he read from his forthcoming translation from Hindi to English, where a small boy is witness to the death of an elephant as it is attacked mercilessly by a large pack of wild dogs.
While Shanbag, an engineer by training credited his non-literature academic training for teaching him systems and methodology.
In another excellent session featuring two, independent publishers Arpita Das Ribeiro and Trisha Niyogi in conversation with Margao-based book store owner, Leonard Fernandes, the two lady publishers stressed the need for publishers to combine the latest audio-visual techniques with conventional printing to compete with the likes of popular OTT platforms; states a press release.