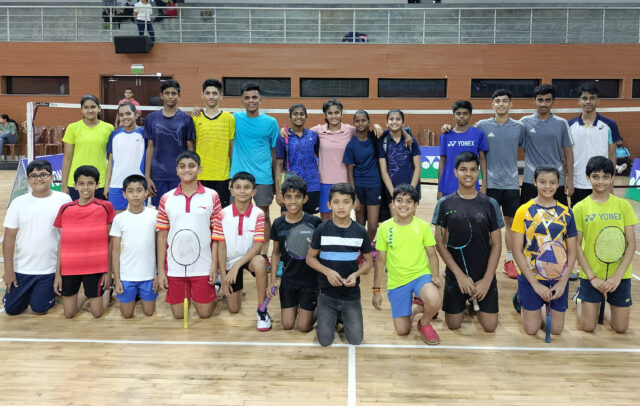 Harsh Mane has set up a title clash with Yash Desai in boys U17 finals while Sakshi K will battle it out with Aarohi Coutoncar in U17 girls finals, at the Yonex Sunrise State Badminton Ranking championships at Navelim.
The boys U15 finals will witness Harsh Mane who will take on Advait Balakrishnan while Aarohi Coutoncar faces Lakshita Sawal in U15 girls finals. The U13 boys finals will be a contest between Rishi Pai Khot and Atharva Bakhale while Sagun Singh is pitted against Sanvi Audi in U13 girls finals. In U11 section, the boys finals will be competed between Aaryan Karpe and Devarsh Kotkar while Avni Khyalia takes on Palak Ramnathkar in the girls finals.

The concluding Mini and Sub-Junior championships of the season has been organised by Goa Badminton Association in collaboration with Sports Authority of Goa, and powered by Ripples.
Semi-finals Results:
Under 11 boys
Aaryan Karpe bt Ateendra Gaonkar 30-17
Devarsh Kotkar bt Vishwa Parab 30-22
Under 11 girls
Avni Khyalia bt Fiona Mare 30-17
Palak Ramnathkar bt Niharika Parwar 30-26
Under 13 boys
Rishi Pai Khot bt Shane D'souza 21-14, 18-21, 23-21
Atharva Bakhale bt Linesh Virnodkar 14-21, 21-16, 21-15
Under 13 girls
Sagun Singh bt Aaryaa Metry 21-6, 21-10
Sanvi Audi bt Astrid Dias 21-11, 21-14
Under 15 boys
Harsh Mane bt Shaheen C.K 21-9, 21-6
Advait Balakrishnan bt Aryan D' Souza 21-10, 21-13, 21-11
Under 15 girls
Aarohi Coutoncar bt Ritika Chelluri 21-16, 21-18
Lakshita Sawal bt Minoshka Pereira 21-19, 19-21, 21-19
Under 17 boys
Harsh Mane bt Rudra Phadte 21-15, 21-14
Yash Desai bt Shrijay Naik 21-4, 21-8
Under 17 girls
Sakshi K bt Aadya Chaurasia 21-8, 21-9
Aarohi Coutoncar bt Janhavi Virnodkar 15-21, 21-16, 21-4