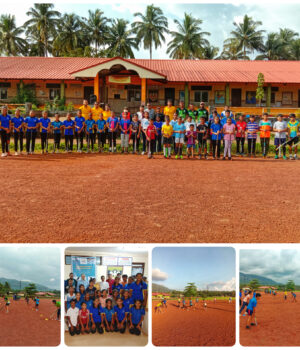 PANAJI: Pioneer Hockey Camp for the grassroots level children's age-group of 10-14 years, was held successfully from October 2-10 at Government High School, Morlem-Sattari.
The beginners' camp was a collaborative effort of Pilar Fathers- Sports for Youth Development, Honda-Sattari; Hockey Heritage Group Goa, Stars of Sattari Hockey Club, 'Hockey Kheluia NGO' and Govt. High School, Morlem.
In all 35 children from Morlem, Keri, Poriem, Honda and Sanquelim, including 18 girls participants; learnt the basics of the sport and fitness at the camp.
The coaching wing was led by ex-Goa and SAI coach Alexander Remedios and session plans were executed by three young coaches Aviraj Madgaonkar, Shubham Sharma and Gaurav Singh – trained and mentored by Alexander for the past 7 years.
According to a press release, the session plans for the 9-day camp had the objective of training the children in a professional manner, with correct techniques at the grassroots level. Each session had a thorough warm-up, fun-fitness game, basic hockey skills, cool down and stretching.
The camp was also visited by Mumbai-based ex-India coach Clarence Lobo, Dronacharya Awardee. He spoke briefly to the trainees and encouraged them to follow the path of becoming good hockey players, shown by the trained coaches.
Pratapsingh Rane, MLA of Poriem constituency, was the chief guest at the closing ceremony. He spent a considerable time admiring the skills displayed by the children on the ground. He spoke to the children on the importance of being fit, living a healthy lifestyle and taking up a sport to groom one's character.
The Pilar Fathers – Sports for Youth Development will continue the hockey coaching for children at Govt. High School Ground, Morlem-Sattari on Wednesday and Friday (3:30-5:30pm), informed a press release issued by Jason Monserrate, President of Hockey Heritage Group Goa.