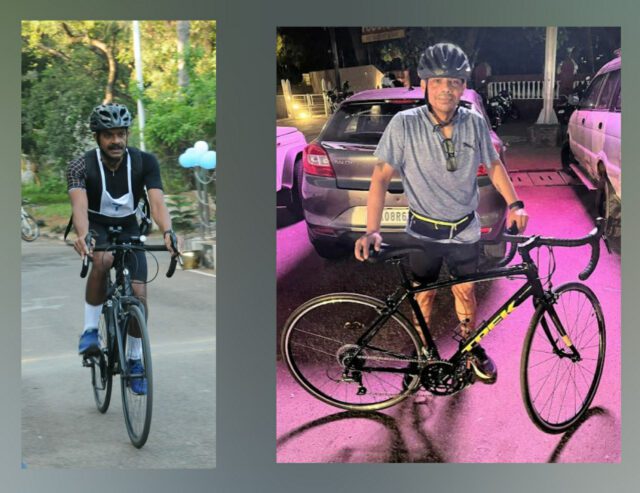 Senior policemen, bureaucrats and armed forces officers will participate in the IRONMAN 70.3 Goa race in Panaji on November 13 to mark the 'Azadi Ka Amrit Mahotsav', stated a press release.
This is part of organiser, Yoska's "Indian servicemen in IRONMAN" initiative to promote Prime Minister Modi's 'Fit India' movement and mark the 'Azadi Ka Amrit Mahotsav'.
There are an estimated 99 triathletes from the police, armed forces and civil services taking part in 33 relay teams in this edition of the IRONMAN 70.3 Goa race. Each of them will share one leg of the gruelling 1.9km open sea swim, 90 kms cycling and 21 kms running to be completed in the stipulated eight and half hours.
Expressing his thoughts about the initiative, Deepaj Raj, founder-CEO, Yoska said, "Yoska has provided free registrations to all government officers for IRONMAN 70.3 Goa and have taken care of all of their training needs."
Ajit Roy (IAS)(39), secretary to the chief minister of Goa and one of the one of the race participants said, "The IRONMAN race is a great equaliser. It will prove that we government officers are similar to other Triathletes taking part in this race."
Roy is grateful to Team Yoska for providing him with the guidance in the key areas of diet-sleep-training activities.
Seju Kuruvilla ( IPS) ( 42), deputy inspector general (DIG) at the Hyderabad based, Sardar Vallabhbhai national police academy is another senior government officer taking part in the race. Says Kuruvilla, "Senior officers by remaining fit can be role models for others in the uniformed forces and can inspire the staff to strive for excellence in all fields."
Echoing Kuruvilla's thoughts, Commander Rakesh Handa of the Indian Navy said, "This is the only IRONMAN event in India and we are keen to participate."
CLOSURE OF ROADS/DIVERSION OF TRAFFIC

Meanwhile, the North Goa Collector in an order dated November 10 in conjunction with the deputy superintendent of police ( traffic) Panaji has issued the following temporary arrangements for closure of roads/diversion of traffic during the IRONMAN 70.3 race in Panaji on Sunday, November 13 between 0500 hrs and 1600 hrs.
1) The Ribandar causeway from Ribandar Patto to Divja Circle shall be closed for vehicular traffic from 0300 hrs till end of race.
2) Riverside lane of DB Marg from Divja Circle to Miramar circle shall be closed for traffic from 0300 hrs till end of race.
3) Miramar beachside lane (RHS) of Dr Jack Sequeira road from Miramar circle to NIO circle shall be closed for vehicular traffic from 0300 hrs till end of race.
4) Road from NIO Circle to Raj Bhavan main gate shall be closed for traffic from 0300 hrs till end of race.
5) Car lane shall be made available for the benefit of residents along DB Marg and Jack Sequeira roads.
6) Traffic from Old Ribandar side coming to Panaji will be diverted at Ribandar Patto towards Chimbel junction to proceed via Merces. Likewise traffic from Panaji to Ribandar will be diverted at Divja Circle to proceed via KTC Circle to reach Chimbel junction, to proceed via internal road.
7) The incoming traffic to Panaji shall be diverted on DB Marg at Ferry wharf junction to proceed via MG road.
8) Vehicles proceeding to Bambolim-Agassaim will use service road along NH66 via GOMECO colony towards old Siridao road up to Goa Velha junction.
9) Vehicles proceeding from Old Goa-Merces bypass NH748 shall come to Merces Circle and take left turn towards service road along NH 66.
10) LHS road of NH 66 from Merces Circle to starting point of New Zuari bridge flyover at Agassaim shall be exclusively for the race. Similarly, RHS road from Divja circle to Merces circle shall be closed and used for the race.