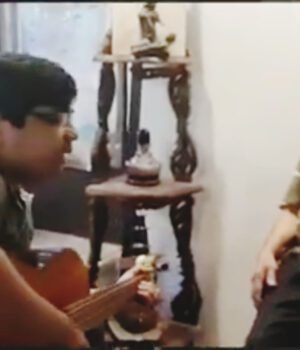 PANAJI: Joaquim Proenca's music video 'Hero' is an ode to the special bond shared by a father and his child. In this wonderful original composition; Joaquim, who is a doctor by profession, highlights the deep commitment to the unsung 'Hero' in his life.
Soon after the release of the video on YouTube under the banner of Lemon Grass Production; livenewsgoa.com caught up with Calangute-based Joaquim, who has written, composed and lent his voice to the touching song.
"I think every idea is hidden in us and it just needs the right opportunity to take its stage. It took time to fix together bits and pieces of this composition, which now feels very worth it. Yes it was some coffee , an intense desire to tell my 85 year old dad what he means to me and a supportive family that helped me put the whole act together," says Joaquim when asked about the process of developing the beautiful composition.
"A father's role is so important and still sometimes goes unnoticed or unappreciated. This video shows little acts of love that bond us together and as we grow up how much these acts change but mean so much more. It's a reminder to thank our fathers for all the support they've give us as we move ahead in life. And always remember the mothers behind the cameras capturing these memories that will last forever," added Joaquim.