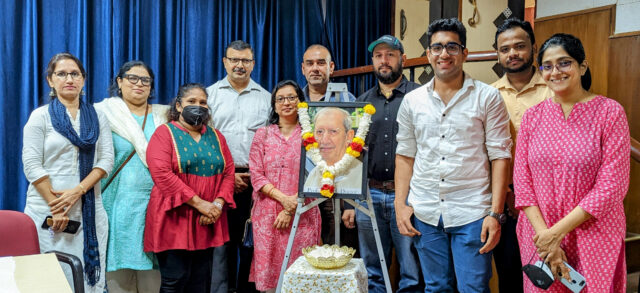 PANAJI: "Prof. Adi. H. Doctor belonged to an age of scholarship that has now gone by, an age when learning was pursuit of the truth and knowledge to be shared and students enthused by this world of ideas", said Prof. Peter deSouza, former director of Indian Institute of Advance Study Shimla and currently D.D. Kosambi Chair at Goa University. He was addressing the gathering at a function to remember Prof. Doctor, who passed away recently.
Prof. Doctor, was the founding head of the Department of Political Science at Goa University and also the former Dean and Officiating Vice Chancellor. " As a scholar, he traversed the discipline of political science from his early work on Indian political thought, to his later work on international relations", he said. Prof. Santishree Pandit, Vice Chancellor, Jawaharlal University, recalled her association with him as a young lecturer at Goa University and said that he has had a deep imprint on the values she has imbibed in her professional life.
Prof. Ganesha Somayaji, Dean of D.D Kosambi School at Goa University noted that Prof. Doctor had innate human qualities and that he played a crucial role at the inception stage of Goa University, handling many important positions at various points of time.
Dr. Prakash Desai, presently the Program Director, Political Science; noted the Gandhian values as well as the persona that Prof. Doctor had and the benchmark he has set for political scientists of present generation, noting that young Doctor's work in the sixties were reviewed by eminent political scientists like Myron Weiner from Princeton University, who had written that "Doctor's book on Anarchist Thought in India is by far the most persuasive philosophical critique of Gandhi and his supporters that I have come across".
The other speakers included among others, Prof. Koshy Tharakan, Dean of School of Sanskrit, Philosophy and Indic Studies, Goa University, Prof. Arun Patnaik, Central University Hyderabad and family members, many former students and well-wishers of Prof. Doctor.