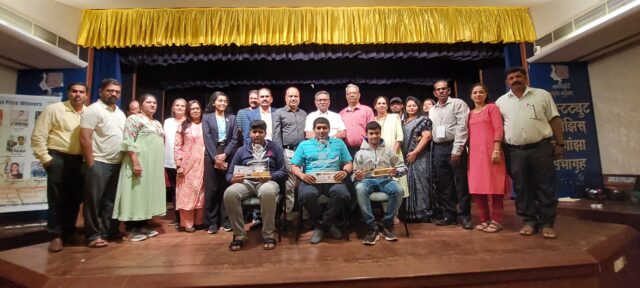 Niraj Saripalli of Salcete Taluka won Late Lt. Cdr. Gopal Sakharam Sukthankar Memorial All Goa Open Rapid Rated Chess Tournament organised by Mushtifund Parents Teachers Association under the aegis of Tiswadi Taluka Chess Association , Goa Chess Ad-hoc Committee and All India Chess Federation in collaboration with Institute Menezes Braganza in Panaji.
Niraj scored 8.5 points from 9 rounds, to win back to back tournament. He had won BPS Rapid Rating tournament. Mandar Lad of Bardez Taluka scored an identical 8.5 points but on tie break score, he finished second. Sairaj Verenkar of Salcete Taluka finished third.
The other prize-winners from 4th to 15th are Joy Kakodkar, Anish Naik, Rishikesh Parab, Anirudh Bhat, Vivaan Ballikar, Aryan Raikar, Atharv Nitin Narayan, Vishwesh Kochrekar, Aarush Bhat, Chopdekar Aarav, Anish M Naik, Love Kakodkar.
Category prize-winners: U7, U9, U11, U13, U15 open & girls are Vihaan Tari, Rishit Gawas, Shrest Ghonsekar, Avani Sawaikar, Trisha Patekar, Shinel Rodrigues, Joshua Telles, Shubh Borkar, Aaryavrat Naik Desai, Diya Sawal, Skyla Rodrigues, Rochel Pereira, Hriday Morajkar, Aarush Salgaonkar, Ethan Silveira, Jennica Sequeira, Vaishnavi Parab, Saeeja Dessai, Ekka Aniket, Aarth Karapurkar, Ali Amanat, Shree Ghonsekar, Arya Dublay, Shriya Patil, Sairudra Nagvekar, Aryan Shirodkar, Raghav Lad, Alana Andrade, Gawas Sani, Shubra Acharya; Veteran : P S Narvekar, Best Women: Asmita Ray, Youngest Player: Manasvi Naik, International Players: Soin Laroslav, Vasarhelyi Szurina; Mustifund Players: Shreyash Hawal, Dharmaditya naik, Sharvil Shedge, Sourish Haldankar, Salij Dhargalkar.
The prizes were distributed at the hands of chief guest Dasharath Parab (Chairman IMB), Mahesh Candolkar (TTCA President), Dnyaneshwar Naik (Chairman Ad-hoc Committee), IA Arvind Mhamal (Chief Arbiter), FA Dattaram Pinge, Aparna Chari (Head Mistress Mushtifund), Pallavi Kakodkar (Tournament Director), Geetanjali Kinvasara, Sneha Tamankar, Nandhini Saripalli.