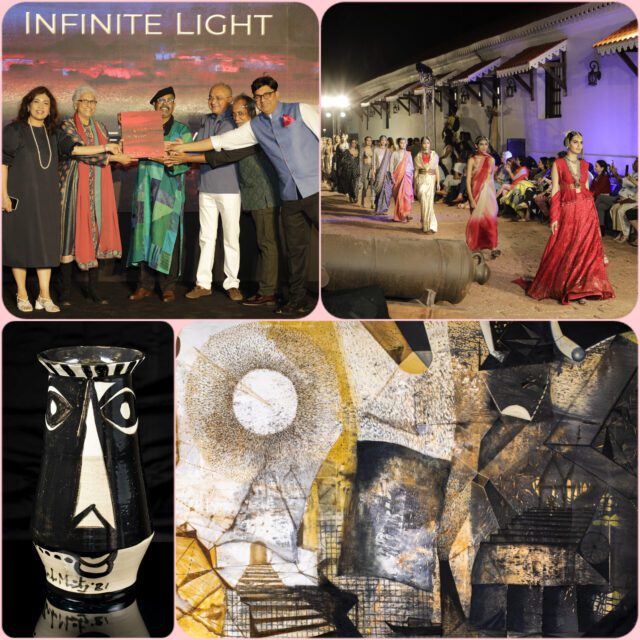 'Infinite Light' is a mammoth-scale ongoing exhibition of the work of the renowned artist Paresh Maity. With the show achieving resounding success during its Delhi, Mumbai, and the currently ongoing Kolkata chapters, the traveling exhibition showcases the vast repertoire of artworks the artist has explored during his four-decade journey, states a press release. It includes sculptures, watercolors, ceramics and more at Aguada Port & Jail complex in Sinquerium from 21 January to 28 February 2023.
Each artwork on display at this venue bears Paresh Maity's signature strength and mastery over medium and colour, combining elements of large-scale installations, sculpture, theatre, and soundscape.
Speaking at the launch in Goa, an accomplished artist Maity, said: "From my childhood, I was very interested in light. I realised at an early age that any form of visual art without light is zero. I always tried to paint during the day to capture the proper light as is a vital part of my painting."
He spoke of his connection to Goa when he first visited 38 years ago as a second-year art student. "I never thought I would have the opportunity to showcase my work here. I was mesmerised by the Aguad venue. I decided it had to be the fifth city of Infinite Light exhibition."
Sunaina Anand, Director, of Art Live, the team who painstakingly put together the exhibition over six months shared, "It was a challenge as it was not easy. To fit it into a classic space that is ready for art is one thing, but to turn a space into an art space has its challenges. The logistics of bringing the works, lighting, and display were a challenge, but as a team, being a 20-year-old gallery, we tried to put it all on paper first back in Delhi. It worked out very well."
The inauguration also showcased a signature line of formal Indian attire by fashion designer Chhaya Mehrotra, who used natural hues to pay an ode to Banaras.