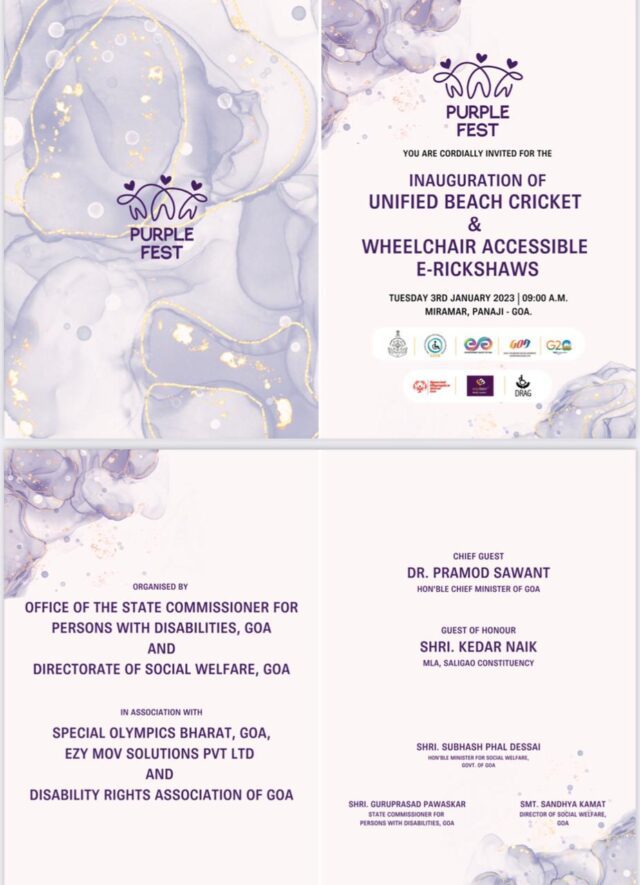 India's first-of-its-kind, 'Purple Fest – Celebrating Diversity' has led to positive permanent changes being made in the city of Panaji. The festival for Persons with Disability (PwD) will be held from January 6-8, 2023 and the city is being made barrier-free permanently for persons with disabilities, states a press release.
State Commissioner for Persons with Disabilities, Guruprasad Pawaskar stated that works at Inox Courtyard, Maquinez Palace and Old GMC have been commissioned in view of this festival which will see long-term benefits to people. "The buildings have been made accessible for persons with disabilities. Purple Fest is not an end in itself so we will successfully do it and are happy to consider this as a means to an end of being able to enable dignity and ease in the lives of persons with disabilities," he said.
He added that throughout India there is need to widening the scope of accessibility, awareness of disability, inclusion and empowerment. Therefore events like keynote address by the Chief Justice of India D.Y. Chandrachud will be important. Recently, CJI has constituted a committee headed by apex court judge to conduct an audit of "physical and functional access" of top court premises to make it disabled-friendly.
Pawaskar believes that Purple Fest will serve as a platform to create the awareness of the need to central and state authorities on accessibility and for the government to act in the right manner.
"During Purple Fest, representatives from various states will witness first-hand how we need to be more sensitive towards PwD and work actively towards inclusion. Goa is an example, and I have personally asked for various changes, including special departments for PwD. I am hopeful that the government will act soon," Pawaskar informs.
Sports is as crucial for persons with disability as it is for the non-disabled. Pawaskar affirms that not just competing, but it is good exercise, mental strength, developing skills of communication and social skills for PwD. "Para sports lacks promotion in Goa and the sports events here at Purple Fest will provide exposure and be an eye-opener to frame and implement a Disability Sports Policy. Goa is yet to formulate a Sports Policy, but most state swimming pools and sports stadiums are still not accessible," highlights Pawaskar.
Purple Fest 2023 aims to offer an accessible experience to all delegates and visitors through built environment accessibility, information accessibility and transportation accessibility.
The various initiatives undertaken are built for environment accessibility of the venue (ESG Complex) – provision of portable ramps to all buildings, tactile and Braille signages, handrails, tactile maps for persons with visual impairment, provision and improvement in accessible toilet facilities, wheelchair parking spaces in auditoriums, provision of temporary ramps to make the stage in auditoriums accessible, staircase climbing wheelchairs to make the first floor accessible to wheelchair users and reserved accessible parking spaces.