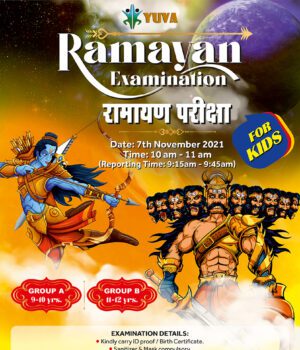 PANAJI: Goa-based national youth awardee organisation 'Yuva' will organise 'Ramayan' examination for children in age-groups 9-10 years & 11-12 years categories, on November 7 at Mushtifund High School, Cujira-Bambolim.
The timing for the examination is 10 to 11am while the participants have been asked to report between 9:15-9:45am, with a valid ID Card or Birth Certificate.
The examination, which will be held in Marathi as well as English, will contain multiple-choice questions and participants have to encircle the right option. A total of 50 questions with 1 mark for each, will be the competition's evaluation method. Participants will have to carry own sanitizer and mask to follow Covid SOP's, says a press release by the Panaji-based social organisation. The last date to register is 1st November, 2021.
To register – contact Akhil 9545622528, for queries and other information – contact Raghuvir 9420595013 or Sanath 9881887563.