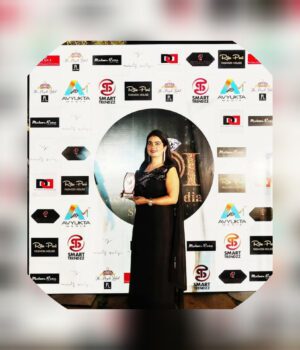 PANAJI: 'Recycling' is the buzz word in the fashion industry during the prevalent times, according to fashion designer Ritu Puri of Ritu Puri Fashion House. With the economy taking a severe hit with unprecedented disruption in the Covid-19 situation, people are trying to come to terms by making adjustments even in the fashion circles.
Livenewsgoa.com caught up with fashion designer Ritu Puri of Porvorim-based Ritu Puri Fashion House, and here are the excerpts of the interview.
LNG. What are the special features of Ritu Puri Fashion House?
RP: At present, I am having my two labels in the market – Customised Designer dresses and Dress Code Corporate Uniforms.
LNG. What are the current trends in the fashion industry?
RP: Now a days, people are taking more interest in recycling. They don't want to purchase new expensive dresses but instead of that, they want to recycle their pre-loved sarees and fabric; and turn them into a new designer dress.
LNG. What made you look at recycling and tell us about your experience working on the unique project?
RP: Last month, I received a proposal from Avyukta Media where they were organising an event called 'Jewels of India' felicitating 'Covid warriors'. To make it more interesting, they were looking for a designer who can do Indo-Western dresses round on the ramp. I discussed with them my ideas and they immediately said yes. I displayed my collection of designer dresses, which I designed and made purely with pre-loved and pre-worn sarees of my customers and it was a big hit. Everyone liked my collection and appreciated a lot!
LNG. What do you feel about the fashion industry's future considering that Covid-19 Pandemic has hit the business hard ? What changes will it need to adapt to in the new-normal?
RP: Honestly speaking, now a days not only fashion industry but every industry business is very uncertain. My advice to everyone is that if you want to survive in this time, then you have to keep these four things on priority :
keep yourself ready to adapt according to the need of the market – Adaptability.
always give 100% in whatever you do – Consistency.
always keep healthy, transparent and friendly relationship with your customers and staff – Transparency.
last but not the least always try to control your overheads – Economical.
LNG. How's fashion consciousness in Goa and how's the market shaping up in the Covid-19 situation in Goa?
RP: Taste of fashion in Goa can be described in two words simple & elegant. Everyone now wants a simple cut, fine lines and body-soothing dresses with no or less embelishment from their pre-loved fabric. Now a days, 'Minimal is the Best'! '